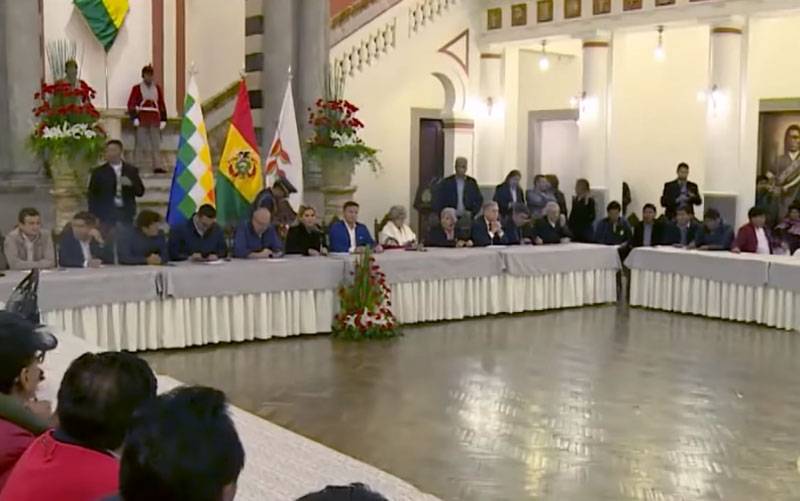 The first fruits of "democracy" after the coup in Bolivia have already made themselves felt. The pro-American opposition, which was eager for power, accusing Evo Morales of "violating democratic principles", was among the first measures to decide to stop broadcasting Russia Today in the country.
At the same time, the "new authorities" of Bolivia declare that this is "only a private decision", which refers to the non-state television and radio broadcasting operator Cotas. The board of directors of this company, as stated, decided that from December 2 of this year, the RT channel, broadcasting in Spanish in Bolivia, will cease broadcasting in the country.
At the request of the management of the RT channel, a streamlined answer was received that the solution comes from the management of Cotas. At the same time, no reasons are given for the withdrawal of the TV channel from the broadcast grid.
In fact, we are talking about overt pressure on freedom of speech, about limiting the rights of citizens to receive information.
So, a few weeks ago, announced the resignation of Bolivian vice-president Alvaro Linera diagnosed the new system of power:
Now in Bolivia there is neither freedom of speech, nor freedom of the press, people cannot openly express their opinions.
It should be noted that the new authorities in Bolivia have already begun persecution of those local publications, which, before, during, and after the coup, supported and support President Evo Morales.
It is important to note that about two weeks ago, RT was disconnected from the broadcast grid in Ecuador. And again, without explanation. In October, mass protests swept across Ecuador.