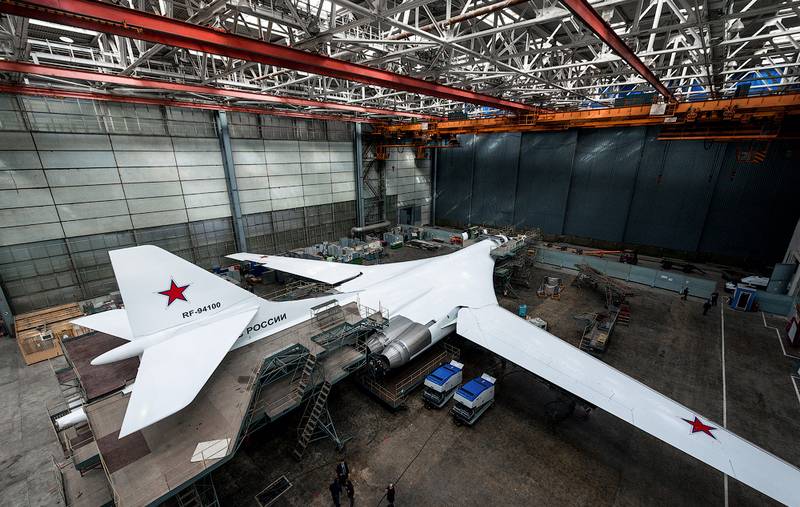 The first combat strategic bomber Tu-160M, which underwent a deep modernization, is fully assembled and submitted for testing. This was reported by a source in the military-industrial complex.
According to the source, the upgraded strategist was rolled out of the Kazan Aircraft Plant workshop and transferred to the flight test station, where the aircraft will pass the ground test phase before the start of the flight phase.
On November 28, the first deeply modernized strategic missile carrier bomber Tu-160M was transferred from production shops to the KAZ flight test station. S.P. Gorbunov for practicing the stage of factory ground and flight tests
- leads "Interfax" source words.
At the same time, he said that the Tu-160M was created as part of a program of deep modernization of the Tu-160 combat aircraft. The new version of the aircraft should significantly increase the overall efficiency of the aviation complex when used as intended.
The Ministry of Defense announced plans for deep modernization of all 16 combatant Russian strategic bombers Tu-160 "White Swan" to the level of Tu-160M.
Earlier it was reported that in addition to upgrading the Tu-160 combatant strategists, the production of these aircraft from scratch was resumed at the Kazan aircraft plant. The Ministry of Defense signed a contract with the company to build 10 new Tu-160M bombers, the first of them will be rolled out at the end of the 2020 year.