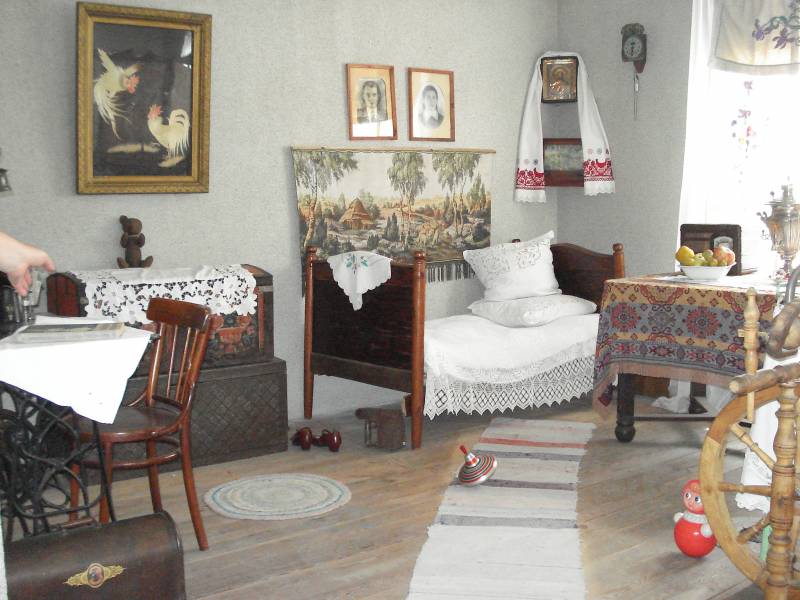 The interior of the Soviet apartment until the 1967 year. Museum in Kaliningrad. It is very difficult to preserve the memory of the past, but it is possible by creating such "household museums" or rooms in museums. That was all in the apartments of my comrades in the street, and in my house too: a cover from the Singer machine and the machine itself, only manual and not foot, the chairs are exactly the same, the carpet on the wall, photo portraits on the wall under glass. But there was no icon in the corner in my house. But the neighbors had it!
"Winston felt desperate. The old man's memory was just a dump of small details. You can ask him all day and you won't get any worthwhile information. So that
история
parties may be true in a sense; and maybe quite true. "
J. Orwell. Xnumx
History and documents.
The archive is, of course, good. And we'll get into it more than once. But we ourselves still remember something, because we lived at that time. By the way, I personally will write about the fact that I personally remember the time I studied at the Soviet school, and this will be the answer to the material on this subject that appeared somehow on VO. But today we will talk about something else. Namely, about the economy of the beginning of the 1970's. I found in my photo archive interesting photos from the museum in Kaliningrad and my own ones taken at home a little later, and decided to "attach" them to the text so that it would be interesting to watch and read. Well, about school years it will be somehow another time, not yet evening, it will be necessary to look for photos of those years.
So, we begin by recalling J. Orwell again. That place in his novel "1984", where he asks in the old man's pub about when he lived better, in the past or now. And he is surprised that he remembers the individual "pieces of the mosaic" very accurately, but ... he cannot add an entire picture from them. So in some respects my picture is very clear, as if it happened yesterday. But did I really think about global problems then?
It's for sure that they "robbed" my apartment: a table, a sideboard, and a chair (on the left). And the elephant ... There wasn't such a gramophone
And it so happened that I was tired of being alone in the company of my grandfather and grandmother, with whom I spent the last years of school, while my mother arranged her personal life, went to college and felt ... that my soul craves love and ... family happiness. And it says done! I found a girl of my dreams for myself, offered my hand and heart, and ... in the summer of 1974, we, as they said then, "signed", we were celebrating a wedding with a whole bunch of friends (well!) And relatives (I would like these fewer and in general, in my opinion, the best marry an orphan!) and began to lead their first independent household. They settled in a large wooden house with six windows onto the street, a large Russian stove and Dutch, antique furniture, a closet, barns, firewood and supplies of coal and briquettes for the winter and, of course, without amenities, as well as hot and cold water, but with large garden. The wife still regrets that the house was demolished, and we were given an apartment. Because in summer it was not hot, and in winter it was not cold. My grandmother's pension was 28 rubles, my grandfather received 90, and the garden also gave money, and we received a scholarship - according to 40 p. or 40 and 50 (enhanced). Moreover, my mother and stepfather sent 50 p., Because we gave our 80 to our grandmother, who was engaged in grocery shopping and cooking for everyone. But since she often went to the hospital, we had to manage us very soon. Then, near our house on Proletarskaya Street, there were three grocery stores: cooptorg, "grocery" and bread.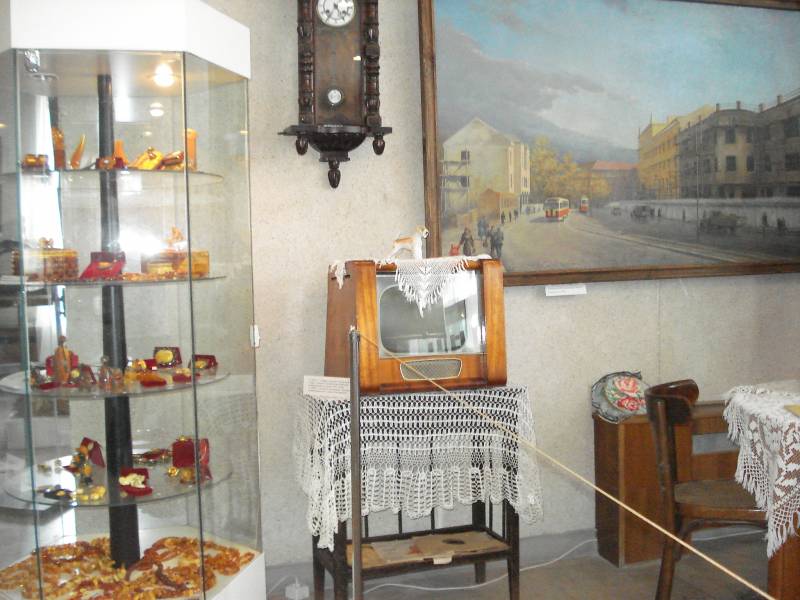 TV and clock ... We had them until the move to the apartment building in 1976 year!
Usually we went to co-trade, because he was closer. The assortment in the summer of 1974 there was this: draft milk (in the morning) and sour cream by weight and in jars, as well as bottled milk, as well as kefir, fermented baked milk and yogurt, and milk in triangular bags. Bottles could then be handed over to "Glass" for money, but it is necessary that the edge of the neck was not broken, without chips. There was condensed milk in cans, but already condensed milk was only in Moscow.
Other dairy products included weighted cottage cheese, packaged cottage cheese, curd cheese with raisins, Russian cheese, Poshekhonsky, Smoked cheese (in the form of round sausage, we never liked it), as well as Druzhba processed cheese ( traditional snack of our street drinkers!), Summer cheese (a little more expensive than "friendship" with herbs) and ... that's all.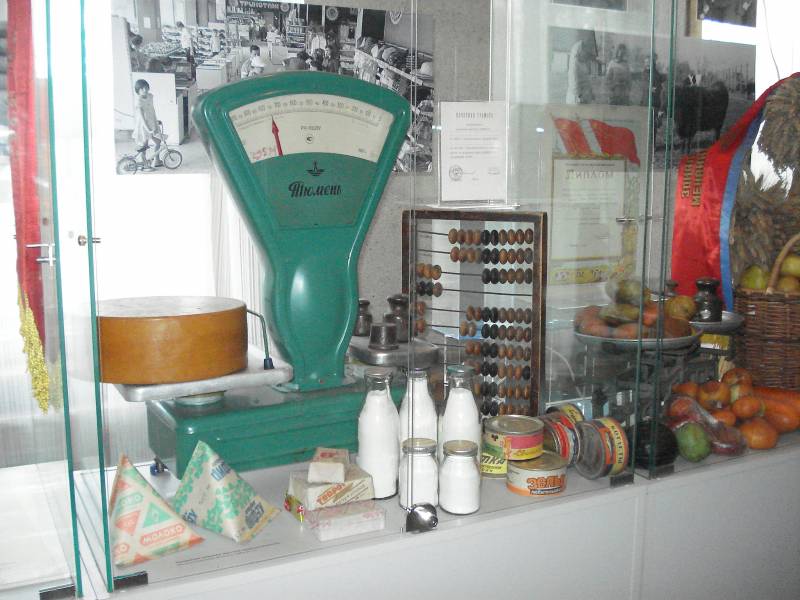 A typical counter of the Soviet grocery store 70's ...
Butter was both weighed and in packs, and there was also "chocolate butter" and, of course, vegetable oil - from sunflower, spilled into glass bottles, with only one kind. Sometimes they sold it by co-trade by weight, but the weight by weight smelled very specific. They also sold it on the market, but we never bought it there.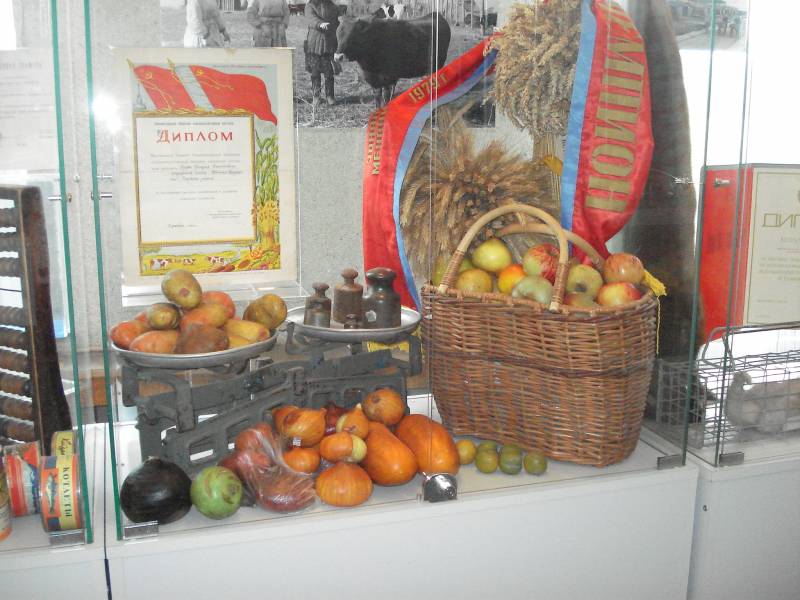 Scales with weights were used even in state trade for a very long time.
Mayonnaise was also of two varieties: "Provence" and "Spring" with the addition of greens. That year, he stood on the shelves and was not in short supply, just like green peas, by the way. Bulgarian, company "Globus". There were also canned Bulgarian "Stuffed Bulgarian Pepper", peach compote. Our domestic only remember stewed cherries. There were about the same number of sausages to choose from. "Doctor's" (the same pink as now, that is, with a minimum amount of meat, but nevertheless tastier than modern), "Amateur" with circles of fat, "Horse" (it is clear that from horse meat), but we liked most "Armavir" - in the shell of the abomasum, and as thick as a pig. Prices are: 2,80 p. "Doctoral", but "Armavir" - already 3,50. There were no more sausages on sale, but there were "pork" sausages, and a couple of years later they began to throw sausages in the Three Piglets company store, but they didn't lie there, there was a line behind them and they didn't give more than one kilogram. By the way, cheese in Moscow, too, in the Cheese company store on Gorky Street was given no more than a pound in hand. But this rule fortunately did not apply to Roquefort cheese. So when I was in Moscow, I always bought it to the maximum of possibilities and asked the same of all my friends that they went there. Vodka was full. She stood in rows on the shelves. By 2,80 and 3,62 ("Capital"). Cognac "Pliska" (Bulgarian) cost 6 rubles and the same amount in the village of "Montazhny" near Penza (I don't know what they installed there) cost a bottle of whiskey "Club 99". We sold Cuban rum Cuba Libre (7 and 8 rubles), from which we made Daiquiri - Hemingway's favorite cocktail.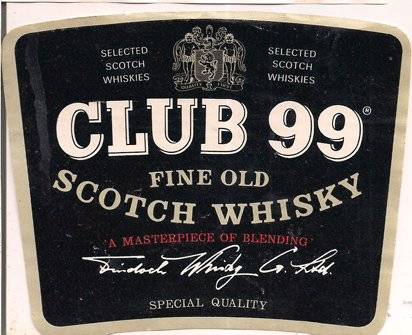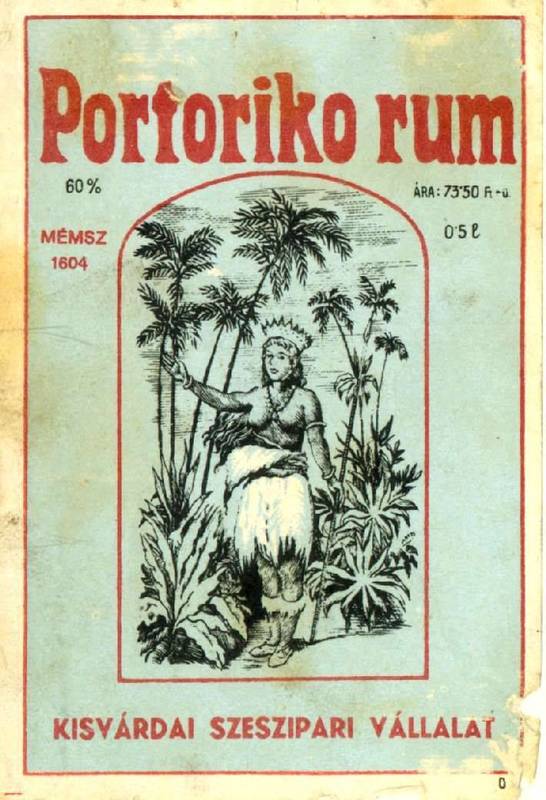 Puerto Rican and Jamaican rum.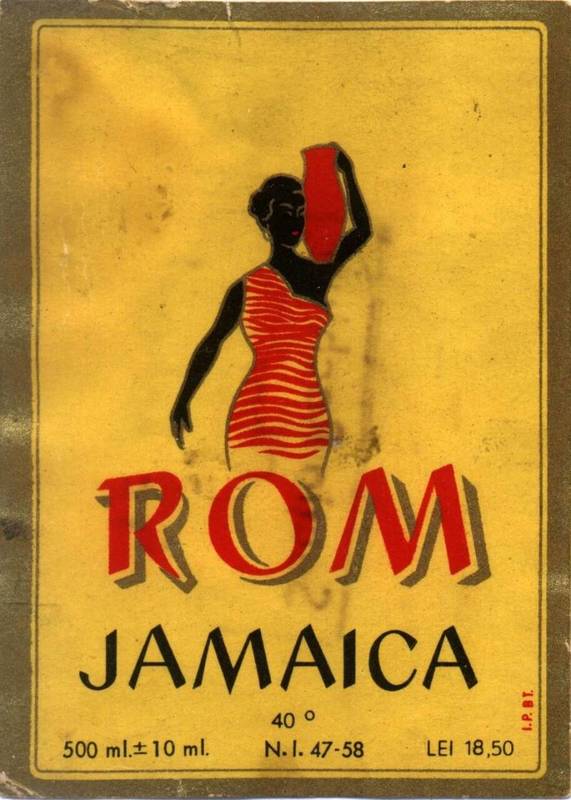 There was a very tasty tincture from Egypt "Abu Simbel" and somehow they were selling "Rum Negro" for only one year. My stepfather was often invited to Poland for various celebrations, like a war veteran. And from there he brought real French cognac Napoleon, Zubrovka and Puerto Rico rum with a fortress of 60 degrees. My university comrades, who stayed in Penza and grew old with me, still remember how we drank this Napoleon and sang: "And what I drink, and I drink cognac, I've made simple Napoleon cognac whole balcony. And who is the father, my father, Lena, our secretary general, but you are not talking about this! "Well, the students ... they always differed in some kind of free thinking, but that's all that our" free thinking "was enough for then. Jamaican rum is sometimes thrown away from us, but in Moscow. They drank it under the plate of Robertino Loretti "Jamaica, Jamaica!"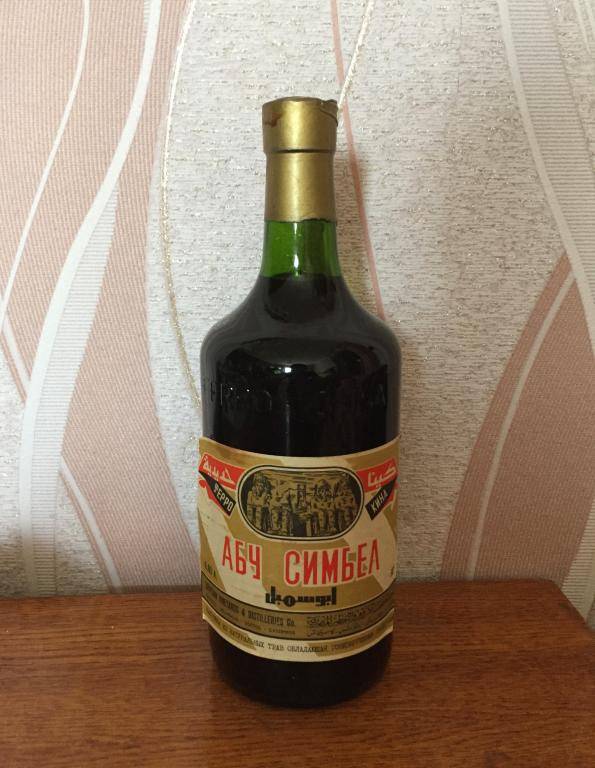 And this is Abu Simbel. True connoisseurs preferred strong Old Tallinn liqueur, but it could be bought only in the Baltic states
As I recall, there was only one beer: Zhigulevskoye, bottled and bottled, from barrels ... When I lived with my stepfather in Moscow at the Rossiya Hotel, I tried the Golden Ring beer there, and so ... actually, more I did not try beer then.
Coffee was sold in stores by weight of beans. And already ground in cans. We preferred cereal. They themselves milled, cooked and treated their classmates who visited us in droves - after all, the first student family in the group.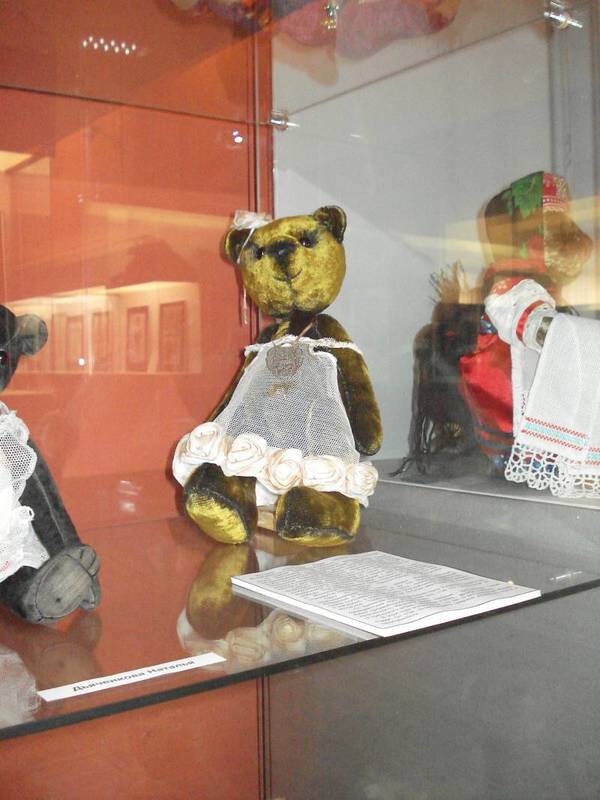 Was in Penza, and another "company store" Don ". There were always fresh apples and black olives on sale, which, since 1980, have been replaced by Afghan green ones in banks. What else was in that co-trade? Herring in tanks and flat metal cans, well, traditional three-liter cans with tomato, apple, grape and pear juice. In 1974, it was no longer sold, but a few years before, starting from 1968, this store was full of Indian mango juice in large iron cans with labels in bright blue and red. Half-smoked sausage used to be there, but it was rarely dismantled quickly, just like hunting sausages. Delicious ham "with a tear", called "Tambov ham" was sold. Now for some reason they don't do this, but in vain. That is, they do it, but ... "without a tear."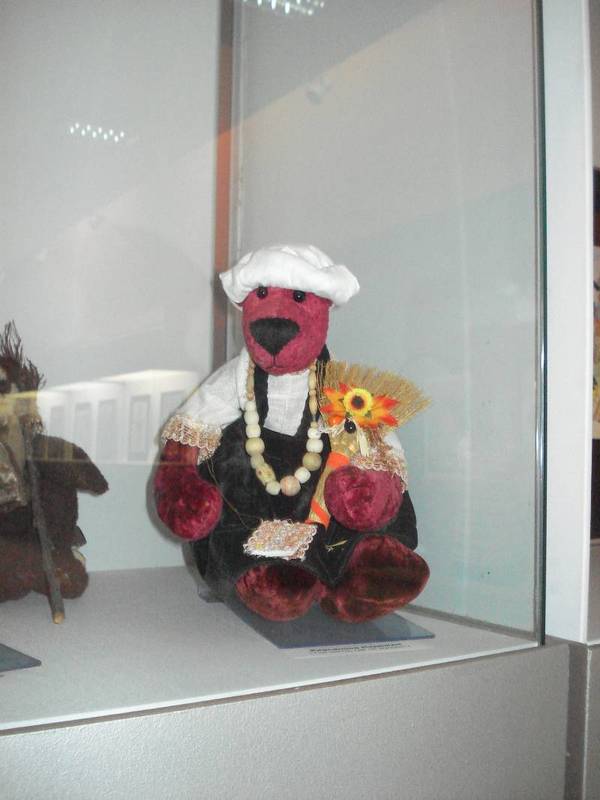 I don't remember something in the shops, but skinny thin and some kind of blue-looking chickens from a local poultry farm were for sale. We did not buy them, because on the market for 3-5 rubles you could buy an excellent chicken, or for a ruble two giblets - a head, a stomach, a liver, a heart and two chicken legs - out of two such giblets came out a wonderful chicken stock. Again, the market was beef, pork, lamb rarely.
Not far from us was a vegetable shop where the whole time it smelled just disgusting. There was a potato in half with the ground, excellent cabbage with huge heads of cabbage, carrots - "the nun's dream", equally impressive beets and again three liter jars with pickled squash and cucumbers in my hand. Who then bought it, I just can't even imagine. Seldom-rarely there was "thrown out" cauliflower and on this all the vegetables in this store ended. Well, except that in autumn tents were put up all over the city, in which they sold watermelons from Kamyshin and Astrakhan. Melons were sold by "comrades from Central Asia" and only at the big city market. They sold expensively, as now. Collective farmer's melons, like watermelons, were often offered directly from cars ...
There were four types of cakes in cafes and grocery stores: "custard" (eclairs), biscuit (as they were called and still exist safely today!), "Potato" and "cream tube". Rarely, but there were meringues, and all kinds of "crusts" and "ring with nuts" were constantly on the windows. We knew in which cafe the cakes were always fresh and went there to drink coffee with cakes. Well, of course, they bought them home. Cakes were also of two types: "Biscuit" and "Fruit". In Moscow, I saw people with bird milk cakes in their hands. But he himself never stood in line for them, they were very large. But to order a cake for some celebration was in Penza at that time a big problem. It was necessary to go to the overproduction, ask, explain, persuade. And they told you directly that they better make ten ordinary cakes than one to order. Unprofitable! You offer a lot of money ... Do not take. You can't take more than a serial cake! Price for weight. Work does not count. And I ordered a basket with strawberries, then with mushrooms ... If it weren't for my ability to convince, my wife wouldn't see such beautiful cakes then. Some kind of game, right? But it was so!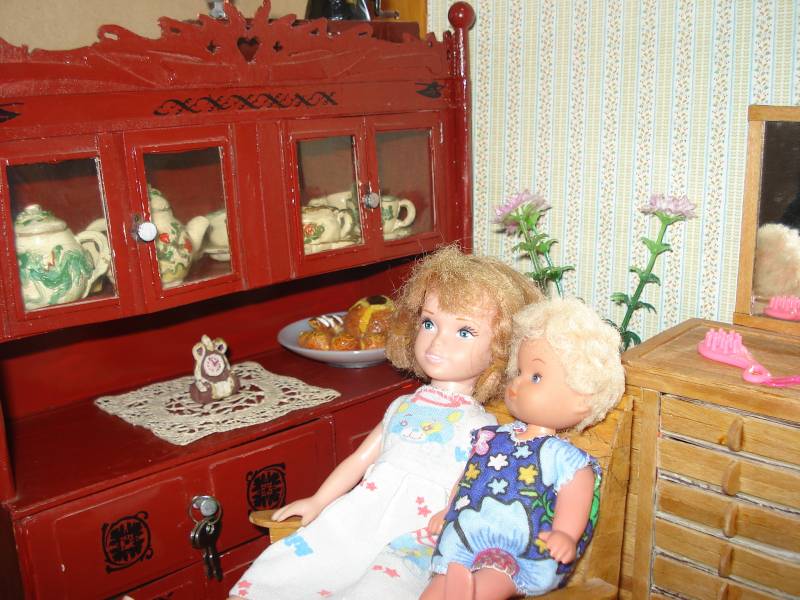 In my opinion, it was bad then with toys (which, incidentally, I wrote about in my articles in Penza newspapers). The dolls had more beds, the closets did not fit the size of the dolls, dishes, cutlery - everything was different. And how was it to play with it? I had to make toys myself, just the size of my favorite doll dolls. That is, furniture, clothes, and food - she had everything on one scale. It was a real world where the cabinet doors opened, the drawers closed, the lid rose at the piano and there were even candlesticks with candles
Was in Penza and the store "Gifts of Nature." They sold hunting prey there. The meat of a moose, a wild boar, but the most important thing that helped us out when we were too free to handle money and, for example, bought jeans for 250 rubles, there were quails and partridges sold there. Partridge cost a ruble, and quail is even cheaper, and we bought this "game" constantly. And the soup was cooked from them, and baked in the oven, in a word, "luxuriously unwilling." But bananas were sold only in the summer, they were "thrown out", as they said then, into their hands for more than one kg, and to everything else they were still green and then they lay under our bed for a long time, "reached." Pineapples ... only from Moscow.
There were also a lot of canned goods in food stores, starting with the cheap "Sprats in Tomato" and "Squid in Own Juice", to canned salmon. But again, they were not on sale for long.
Sweets and chocolates were sold in all stores. But in the center of the city, just in the house where the future girl of my dreams lived, there was a Snezhok store, where ... what was missing and it smelled of chocolate and vanilla so that my head was spinning. There was also a cafe serving ice cream in vases: with jam, raisins and cognac. On the way from the institute, a lot of girls stayed with me there, until I settled on one. And only then, having led "his" to the door, he went there, bought five truffles by the weight of pieces, and went home, gradually eating them. Truffles were delicious then, tastier than current ones. In candy bottles with liquor there was real liquor, and in the same "bottle" with rum - rum, and not the essence, as it is now. Modern sweets in general seem to me to be "sweet clay", although sweets are "prunes in chocolate" and "dried apricots in chocolate" for my taste are not different in quality from those sweets. The marshmallows were white, pink and in chocolate. Very tender and airy, but just like marshmallow, it quickly dried up. There were candies in the boxes "Golden Cornfield", "Kolos", our Penza set of sweets with portraits of famous compatriots, but, of course, they bought them only for a holiday. 8-10 rubles - the price seemed prohibitive.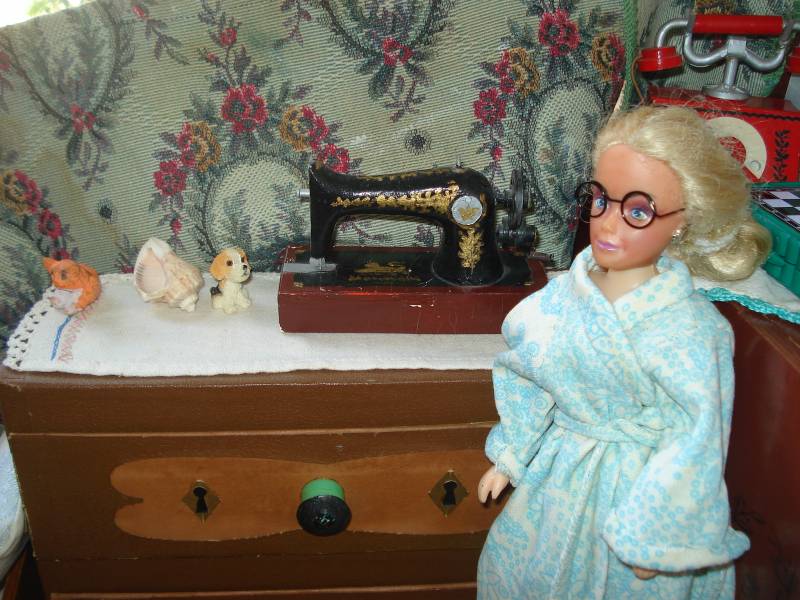 With great difficulty, my daughter managed to make a set of things for several rooms, which were located in her niche under the windowsill. It was also a kind of museum of life. The chest of drawers is an exact copy of the chest of drawers from our old wooden house. A sewing machine is an exact copy of the machine on which my grandmother sewed. That's just the phone had to "fantasize"
That is, on 80 rubles for the two of us, a young married couple, it was quite possible to feed ourselves. And with a subsidy of 50 rubles, it's very good to eat and even go to the movies.
It was worse with ... material goods. It is clear that at that time we were not worried about buying a refrigerator or a vacuum cleaner. All this was bought before us. But we could only dress with considerable difficulty, and this despite the fact that all clothing and shoe stores were packed with goods. But ... everything was like in the movie "Give a mournful book." The man's coat is "brick-cobblestone color", women's - exclusively "woman's styles", but it was simply impossible to buy a suit for me. Either the jacket's hands are short, then the trousers, then the hands are normal, the trousers are two sizes larger than myself. I told the seller: "Let's take the jacket from this suit, and the trousers from this?" The answer was like in the movie "De Javu" - "You can't change. A meatball with rice, a cutlet with potatoes! "Therefore, I had to buy fabric and all clothes to order tailors and dressmakers, and it would be advisable for private traders. They also sewed in state ateliers ... but "not very high quality." Fortunately, the fabrics were good.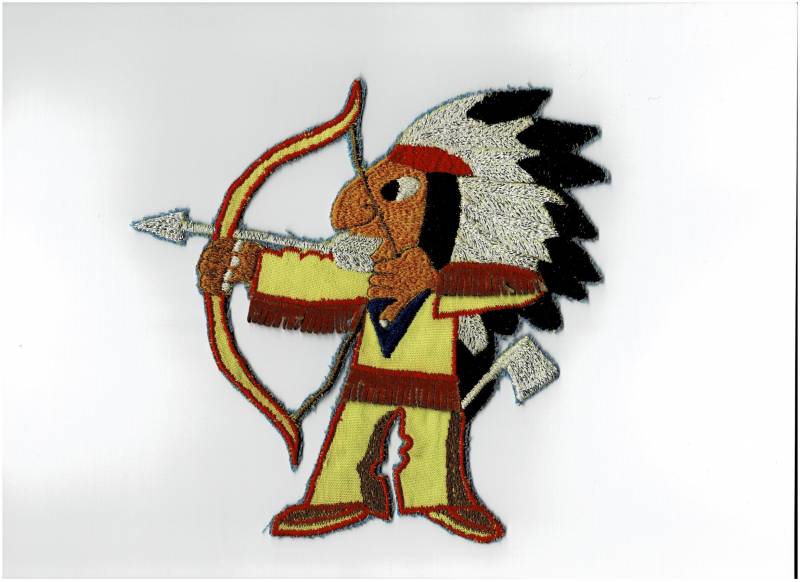 Fashion then changed as it does now. That is - every year. For example, somewhere in the 1976 year, women's midi and mini skirts with embroidery on the hem came into fashion. Someone embroidered a bunch of flowers, someone a cat's face. My wife, in my sketch, embroidered this Indian. Well, then the skirt went out of fashion, but we saved the Indian as a memory. And it came in handy ...
We regularly bought very good domestic fabrics, and sewed dresses and suits from them, both to our wife and me, and she also knitted a lot and well, and this also allowed us both, and then our little daughter, to look both fashionable and elegant. Yugoslavian shoes, naturally, cost 40 rubles, ours, the "Kuznetsk" (shoe factory near Penza), 10 and 20, but no one bought them, except for the workers — standing in them at the machine.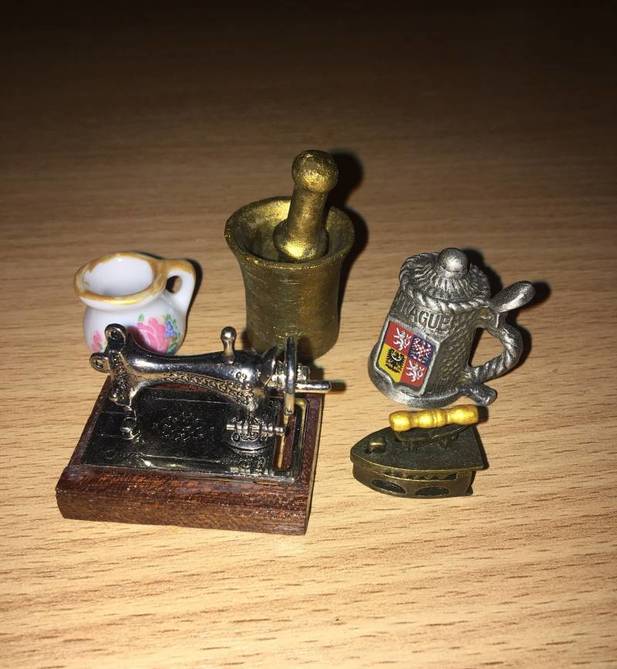 Not from the past, but from the present. My granddaughter played all this just recently. Well, I had to make a mortar and stand for a typewriter
So I remembered 1974 for a year, then 1975, and then 1976. After which, little by little, some of the above goods from the sale began to disappear.
To be continued ...