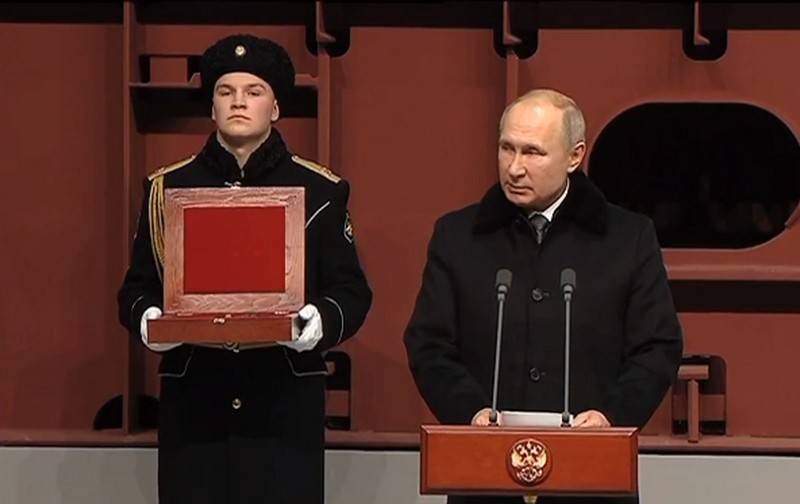 At the Admiralty Shipyards shipyard in St. Petersburg, the second ice class patrol ship of the 23550 project Nikolay Zubov was officially laid down. The ceremony was attended by Russian President Vladimir Putin, who visited a shipyard.
During the visit to the Admiralty Shipyards, the president was shown the mortgage section of the new ship, to which he attached a plate with the name of the ship. After that, he talked with the workers of the plant and thanked them for their work. Vladimir Putin was accompanied by Defense Minister Sergei Shoigu, Navy Commander-in-Chief Nikolai Evmenov, Minister of Industry and Trade Denis Manturov, Deputy Prime Minister Yuri Borisov, President of the United Shipbuilding Corporation Alexei Rakhmanov.
According to the management of the shipyard, the degree of readiness of the first serial patrol ship of the ice class Nikolai Zubov is 11%. According to the plans of the enterprise, the vessel will be transferred to the customer in November 2024 of the year.
Earlier it was reported that the lead ice class patrol ship of the 23550 project "Ivan Papanin" was launched in St. Petersburg.
Project 23550 ice-class patrol ships (combat icebreakers) were developed by the Almaz Central Marine Design Bureau (TsMKB) as a replacement for project 21180 military icebreakers, on which it was built and transferred
the fleet
just one icebreaker - Ilya Muromets.
The vessel is capable of performing the tasks of a tugboat, patrol ship and an icebreaker. The ship is intended for the protection and monitoring of water resources in difficult ice conditions, escorting and towing detained vessels to the port, escorting and supporting support vessels, participating in rescue operations, transporting special cargoes.
The icebreaker is capable of speeds up to 18 knots. Displacement - about 8500 tons, length - over 100 m, width - about 20 m, sailing autonomy - about 70 days. Cruising range - 10 thousand nautical miles. An icebreaker can cross ice fields up to 1,7 meters thick.
The ship is armed with AK-176MA automatic artillery mount, a place is reserved for missile deployment
weapons
. In addition, one multi-purpose helicopter will be based on the ship.