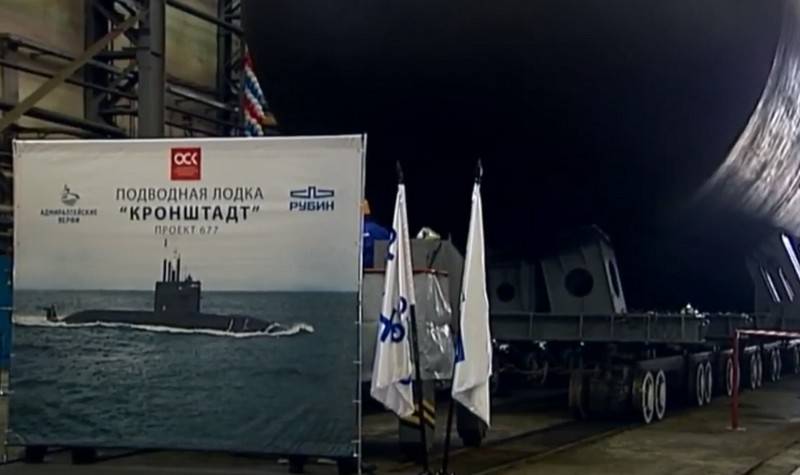 The diesel-electric submarines of the 677 project, the Lada code, being built at the Admiralty Shipyards Shipyard, will be handed over to the Navy at the end of the 2021 year. This is stated in the materials of the presidential press service prepared for the visit of Vladimir Putin to St. Petersburg.
Two Russian submarines of project 677 "Kronstadt" and "Great Luke" will be transferred to the Naval
fleet
RF November 25, 2021. Currently, both submarines are at different stages of construction: the readiness of Kronstadt is 89%, the Great Onions - 55%. Submarines laid in 2005 and 2006, respectively. The lead submarine of the St. Petersburg project was laid down on December 26, 1997, and launched on October 29, 2004. Submarine from 2010 to the present time is in trial operation, the end of which is still unknown.
The 677 Lada submarine project was developed by the TsKB MT Rubin and belongs to the fourth generation of non-nuclear submarines. Earlier it was reported that in 2022 two more submarines of this project will be laid.
Displacement of submarines of the 677 Lada project is 1765 tons, hull length is 66,8 meters, width is 7,1 meters. Underwater speed - up to 21 node, immersion depth - up to 300 meters, autonomy - 45 days. Crew - 36 people. DEPLs are equipped with six 533-mm torpedo tubes. Ammunition - 18 torpedoes.
Earlier it was reported that the submarines of the 677 Lada project will be the first submarines to receive an air-independent propulsion system, the development of which is already underway by the Rubin Central Design Bureau. The design bureau said that the ROC to create a chemical VNEU is already underway. It is assumed that the "run-in" VNEU will take place on the "Frets".