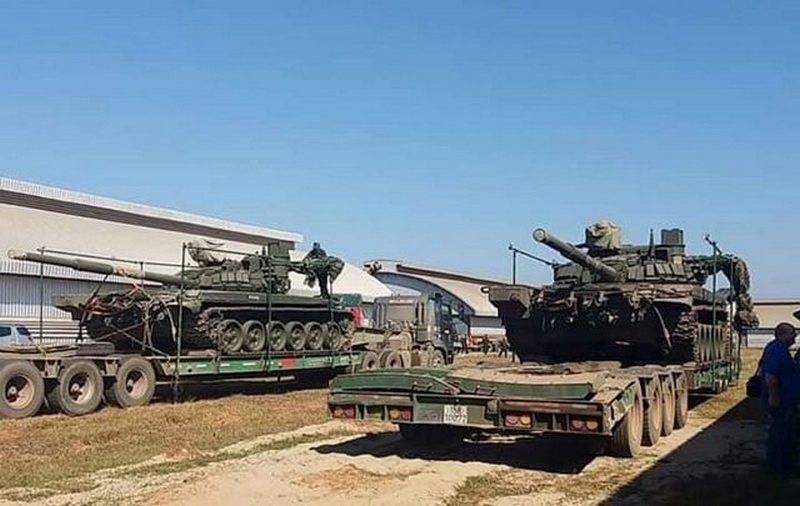 Laos Armed Forces receive a second batch of Russian modernized
tanks
T-72B1 "White Eagle". The armored vehicles were delivered by sea to the Vietnamese port of Tien Sa. It is reported by BaoDatViet.
According to the publication, Russian military equipment is delivered to the port of Vietnam, since Laos has no access to the sea. After unloading, the equipment on autotrailers is already delivered to the territory of Laos. The report does not say how many T-72Б1 tanks are in the party, but earlier it was reported that the tanks are delivered on 10 combat vehicles in the party.
As previously reported, Laos signed a contract for the supply of a batch of T-72B1 White Eagle tanks manufactured by the 61-th armored repair plant near St. Petersburg (own development), since the T-72Б3 MBT was too expensive for Laos.
Tanks and military equipment of the Soviet Union played an important role in the revolutionary affairs of Laos and now Russian
weapon
still has high quality
- said in 2018, the country's Minister of Defense, Lieutenant General Tiansamon Tiannyalat during a visit to the tank factory.
The first batch of T-72B1 for the Laos Armed Forces was unloaded in the Vietnamese port of Thien Sa in mid-December of the 2018 year, they even participated in the preparations for the parade dedicated to the 70 anniversary of the creation of the Lao People's Army, held in late December.
According to available information, Laos is supplied with the T-72B1 White Eagle tanks in a configuration similar to that which were transferred to the 2015 year of the Nicaraguan Armed Forces.
A fire control system is installed on the T-72B1, which includes the sight of the gunner-operator PN-72 "Sosna-U" with an automatic target tracking and a panoramic device of the commander of the PKP-72 Falcon Eye machine with a third-generation thermal imager. Mounted navigation system. The 2A46M gun of the 125 mm caliber is equipped with an improved stabilizer and allows the use of guided missiles. An 7,62-mm PKT machine gun is paired with a gun. The ammunition includes 42 shell and 2500 cartridges. The tank also has a remotely controlled installation with a large-caliber "Cord" (12,7 mm) with 600 shots. Cars are equipped with dynamic protection "Contact". Engine power - 840 hp the tank is also equipped with an auxiliary unit that feeds the on-board systems in the parking lots without turning on the main engine.
Tank weight - 47 tons, speed - up to 60 km / h, power reserve - 700 km. Crew - 3 person.