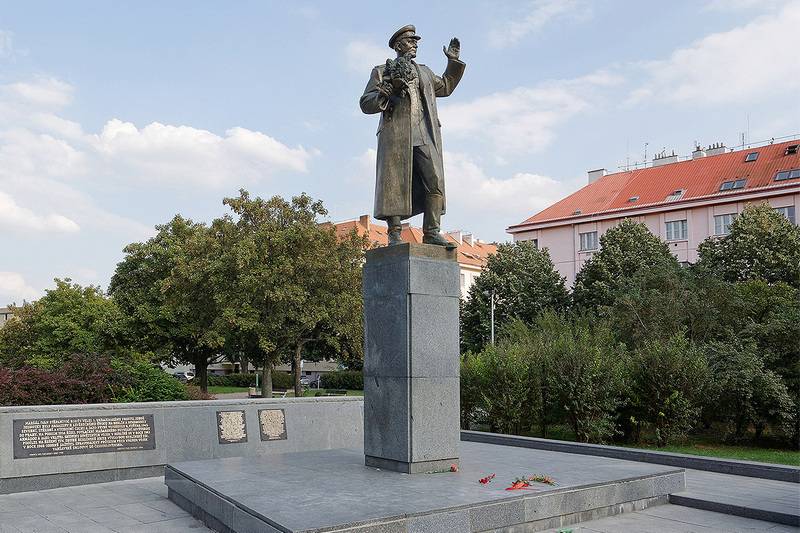 Monument to Marshal Konev, on the site of which a monument to Vlasov may appear
A monument to General Vlasov may appear in the Czech Republic. The head of the 6 district of Prague, Ondřej Kolář, announced the likely installation of a monument to the general, who sided with the Nazis on the site of the monument to Soviet Marshal Konev. It is reported by the Russian service Radio Praga International.
The elder (the post is called) of one of the districts of Prague intends to erect a monument to General Vlasov on the site of the monument to Marshal Konev. The radical Czech politician explains his decision by the fact that the "Vlasovites" allegedly liberated Prague from the Nazi invaders, and not the Soviet army.
The claims to Marshal Konev at the head of the district are that in 1968, the Soviet military leader "personally supported the conduct of information intelligence before the Warsaw Pact invasion of Czechoslovakia." By the way, this is reflected on the plaque on the monument to the Marshal in Prague.
Ondřej Kolář also claims that the capital of Czechoslovakia in 1945 allegedly was able to get rid of the fascist invaders with the help of the "Vlasovites". The Soviet tankers who arrived in Prague "have already entered the liberated city."
On the transfer of the monument to Marshal Konev in one of the museums in Prague and the installation in its place of a "new monument to the heroes of the liberators of Prague in the 1945 year", the decision was made in September this year. Prior to this, the monument was desecrated more than once, dousing it with paint.
The decision to move the monument to the Soviet Marshal was condemned at the Russian Embassy in the Czech Republic, and President Milos Zeman called the decision "a disgrace to the Czech Republic."