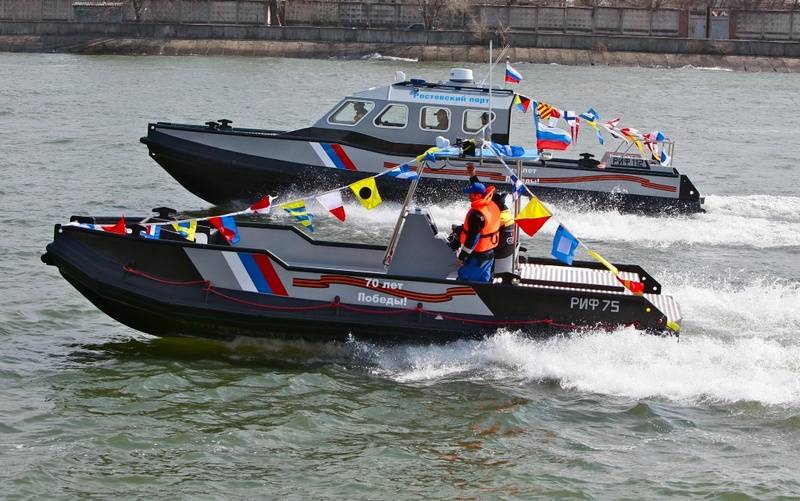 Boats "RIF-112" and "RIF-75"
The Russian Navy is considering adopting the RIF-122 series multifunction boats with a hull of high density polyethylene. Negotiations between the boat manufacturer and the Russian Navy are already underway. This was reported by TASS with reference to the General Director of the enterprise Gennady Vasilyuk.
According to the agency, the Navy is considering adopting boats of the RIF-122 series. As part of the Caspian
flotilla
since 2017, another model of the same manufacturer has been operated - the boat "RIF-75SK", which received good reviews. At the moment, negotiations are at the stage of forming technical specifications.
At the moment, negotiations are underway to supply a series of boats "RIF 122", which are distinguished by greater carrying capacity and passenger capacity compared to "RIF 75SK
- informed Vasilyuk.
According to him, the uniqueness of the proposed Navy boat lies in the material from which it is made - low-pressure polyethylene. This material is not subject to corrosion, does not require paintwork, can be used at ambient temperatures from minus 30 to plus 50 degrees. The life cycle of such a vessel is increased to 50 years. The boat of the "RIF 122" series can also be used in broken ice, which is confirmed by tests.
The multifunction boat "RIF-122" has a height of 3,7 m, a length of 12,2 m, a width of 3,5 m, a draft of 0,6 m, and a carrying capacity of 1,7 tons. The boat is capable of speeds up to 40 knots, the crew - 3 people + 9 landing men.