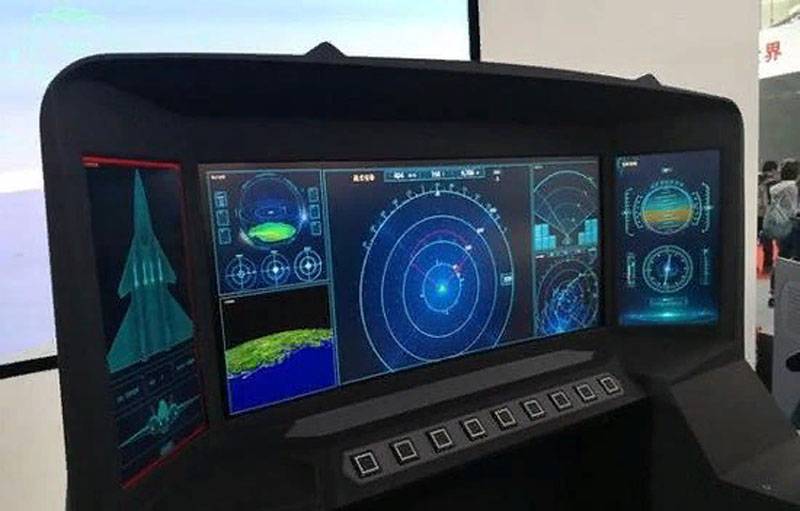 A report was published on Chinese television on the ongoing development of J-20 fighters, which in China are classified as fifth-generation fighters. In particular, it was about the modernization of the cockpit of a Chinese aircraft.
On air of the Chinese television channel in the program devoted to combat
aviation
, it was announced that soon the J-20 cockpit would become "fantastic."
From the report:
The J-20 cockpit will receive many ultramodern airborne complexes and systems, many of which actually represent the embodiment of science fiction. The brightest part of the new fighter cockpit is the full-size multi-function display.
A booth with some innovations was exhibited at the Zhuhai air show, while Chinese reporters say that "not everything was shown."
The report stated that the new systems will allow the pilot to receive significantly more useful information than at the moment. So, we are talking about obtaining "comprehensive tactical information on earth and in the sky."
From the material:
The display supports voice control, it is integrated with the operation of the pilot's helmet. Such integration will allow the aircraft to instantly respond to the commands of the pilot.
It is noted that information on missile launches and on the operation of electronic suppression systems is displayed. At the same time, there is an additional monitor that allows you to switch to touch control. By the way, this is the type of control that military pilots criticize because of a certain inconvenience in the procedure for entering information.
From the report:
The distribution of visual data, with the withdrawal of some of them on the multimedia glass of the pilot's helmet, allows the pilot to see everything that happens behind the plane in an all-aspect version. This greatly improves the pilot's situational awareness.
It is stated that all this makes J-20 a "deep penetration fighter" in the enemy's air defense zone. Chinese users after this phrase asked the question: "Does the PLA Air Force have plans for this kind of penetration?" In fact, it would be strange if, during the implementation of the fifth generation fighter, such goals were not set for him.