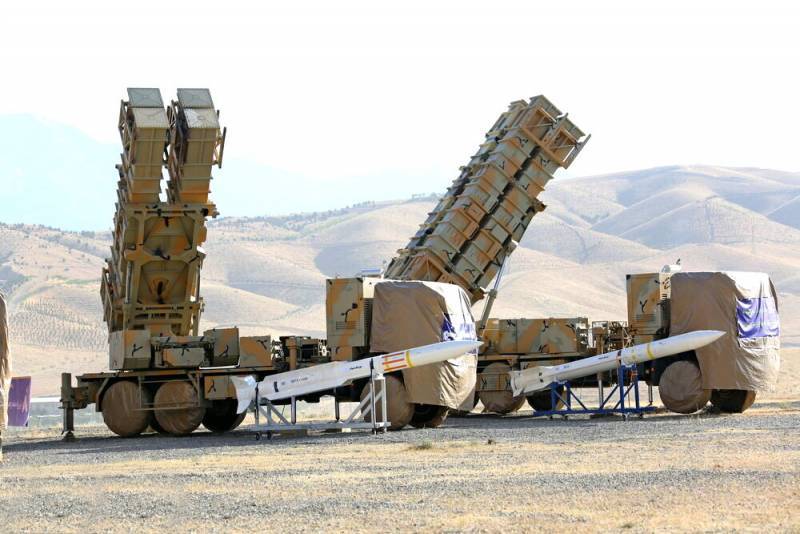 The Iranian Ministry of Defense on Friday conducted a successful test of the new Khordad-15 air defense system of its own production. It is reported by the Iranian
news
agency Mehr.
According to the report, the Iranian armed forces conducted military exercises in the province of Semnan, during which the Khordad-15 air defense system fully confirmed the declared characteristics.
The Iranian-developed Khordad-15 air defense system (15 chords - in memory of suppressed speeches against the Shah 5 on June 1963 (15 chord 1342 on the Iranian calendar)) was officially presented and handed over to the Iranian Air Force at a ceremony held in Tehran at the beginning of June of this year.
Commenting on this event, Brigadier General Amir Khatami said that the new air defense system is combined with Sayyad-3 long-range missiles and is capable of detecting various types of targets, including military aircraft and UAVs within a radius of 150 kilometers, and is capable of tracking them from a distance 120 kilometers.
In addition, according to the minister, the Khordad-15 is capable of detecting subtle air targets within a radius of 85 kilometers, and shooting down them within a radius of 45 kilometers. Among other things, the new air defense system is capable of simultaneously intercepting 6 targets. The complex can be deployed in less than 5 minutes. The maximum height of the new system is 27 kilometers, the radius is 75.
It is worth noting that Iranian military experts and technical experts in recent years have made some progress in the production of military equipment, but the capabilities of these weapons are greatly limited by the sanctions imposed on Iran.