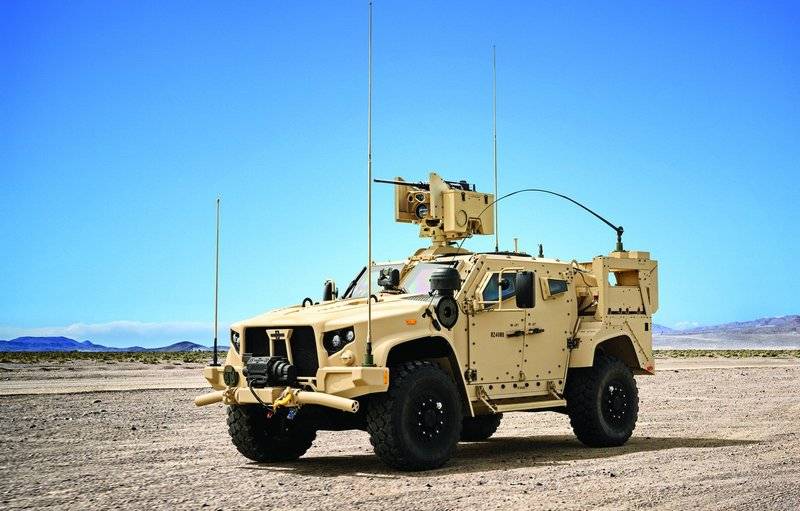 JLTV 4x4 in the M1278A1 Heavy Guns Carrier modification with the M153 CROWS combat module
Lithuania has finally signed an agreement with the United States on the supply of 200 American armored SUVs JLTV (Joint Light Tactical Vehicle). This was reported by the press service of the Ministry of Defense of the republic.
According to published information, the contract will cost 145 million euros, the first armored vehicles should be delivered to Lithuania by the end of the 2021 year, and the last by the 2024 year. The equipment will be used by the Army and Special Forces of the Republic.
It should be noted that this agreement provides an option for 300 armored vehicles, since the United States initially wanted to sell Lithuania 500 light armored vehicles JLTV. However, in Lithuania they stated that they would like to purchase all 200 of such armored vehicles.
A notice of readiness to sell Lithuania 500 Light Armored Vehicles Joint Light Tactical Vehicle (JLTV) with the wheel formula 4X4 in the M1278A1 Heavy Guns Carrier modification was approved by the US Congress in early September this year.
The vehicles planned for delivery to Lithuania will be equipped with M153 Common Remote Weapon Stations (CROWS) remotely controlled combat modules with 12,7-mm M2 QCB machine guns and round-the-clock M230 TAC-FLIR sighting systems. The agreement provides for the supply of spare parts for armored vehicles and training of personnel of the Lithuanian army.
Negotiations on the purchase of JLTV have been conducted by Lithuania with the American side since the end of the 2017 year.