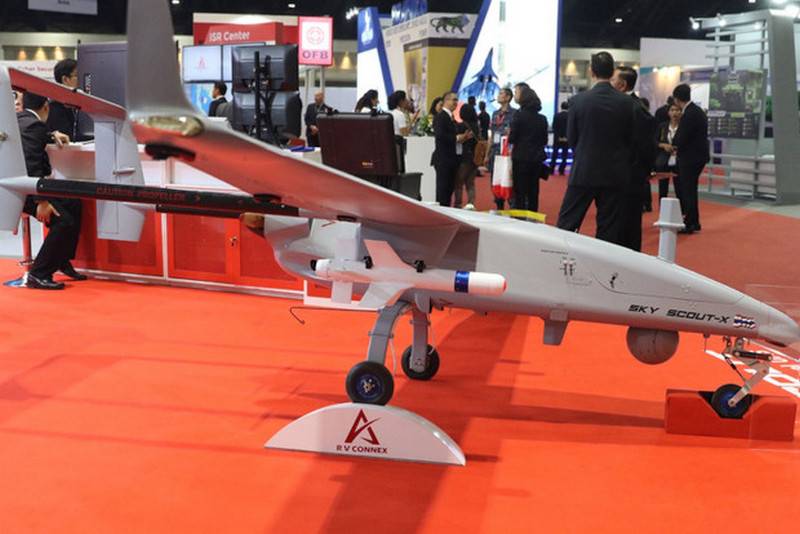 Layout Sky Scout-X at an exhibition in Bangkok
Thailand intends to adopt a self-developed strike drone in the near future. A model of the future drone was presented at the Defense & Security 2019 exhibition in Bangkok.
The development of an attack drone, called Sky Scout-X, is led by the Thai company RV Connex, based on the reconnaissance unmanned aerial vehicle Sky Scout. The model shown at an exhibition in Bangkok was on display with the French promising LightFall LMF missiles capable of hitting both ground and air targets.
According to "NPlus1", the project to develop an attack drone based on Sky Scout is currently at the stage of technical analysis. RVConnex believes that flight tests with simultaneous live firing of the strike version of the reconnaissance vehicle as part of the tests will take place no earlier than in 2,5 of the year.
The development of the shock version of the reconnaissance drone was commissioned by the Thai Ministry of Defense. Currently, the Thai army is armed with 17 Sky Scout reconnaissance vehicles, with the army designation RTAF U1.
In the reconnaissance version, the drone has a length of 3,6 meters and a wingspan of 6 meters. Maximum take-off weight - 140 kg, payload mass - 10 kg. The device is equipped with a boxer engine with 25 horsepower. Time in air - up to 6 hours, speed - up to 58 knots (107 kilometers per hour). The range of the apparatus on the control channel is 100 km.
What performance characteristics the drone version of the drone will have is still unknown.