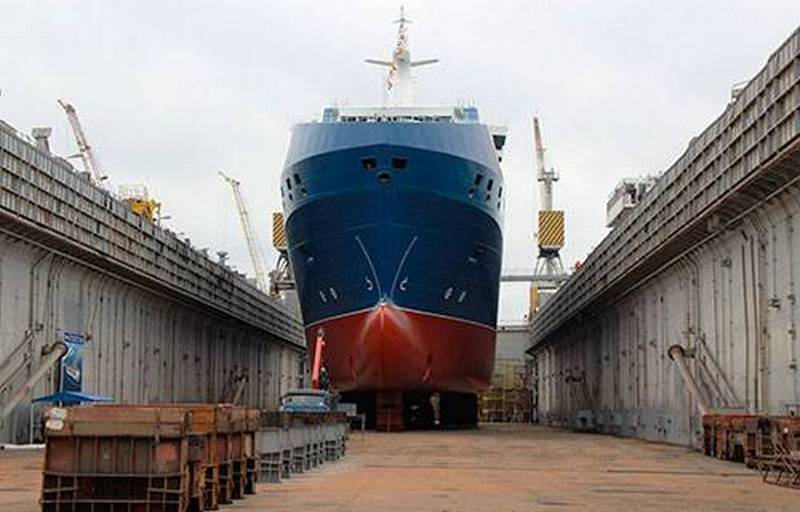 OIC "Akademik Ageev" in a dry dock before launching on November 21 2019
In St. Petersburg, an oceanographic research vessel of the 16450 project "Academic Ageev" was launched. The official ceremony was held on November 21 at the Kanonersky Shipbuilding Plant CJSC (Kanonersky Island).
According to the Sudostroenie.info portal, the 1 project oceanographic research vessel of the 16450 rank of the XNUMX project (Garage-Guys code) was withdrawn from the floating dock and launched. The ceremony was held in working order in the presence of representatives of the Main Department of Deep-Water Research of the Ministry of Defense of Russia, in whose interests the ship is being built.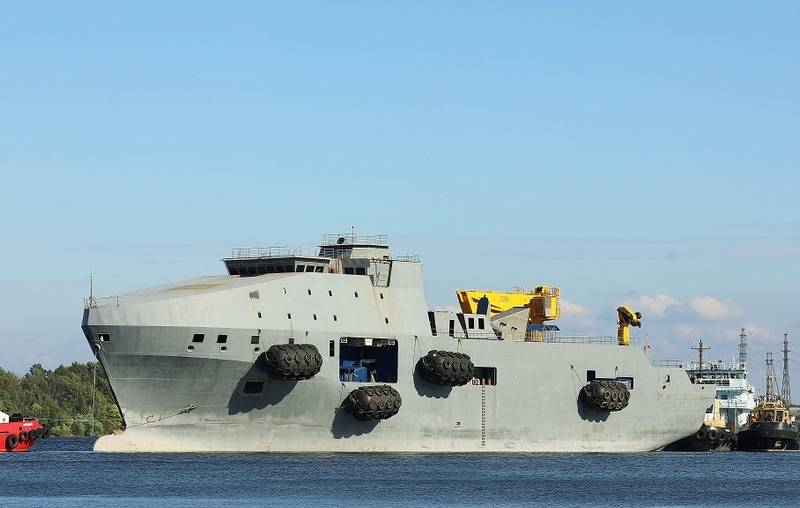 OIC "Akademik Ageev" during towing along the Neva River 1 September 2019 year
According to the bmpd blog, the construction of the Academician Ageev OIC is carried out in the interests of the GUGI. The official laying ceremony of "Academician Ageev" was performed at the shipbuilding complex of the Pella plant on 15 on September 2016. The lead developer of the 16450 project is Severnoye PKB JSC.
The technical launch of the Akademik Ageev vessel at the Pella plant was carried out without wide publicity on December 21 of 2017. In early September 2019, the ship was transferred across the Neva from the Pella Shipyard to be completed at the Kanonersky Shipbuilding Plant CJSC due to the absence of a dock of the appropriate size on Pella necessary for docking during the completion process.
The date of delivery of the vessel to the customer is not communicated.
According to published data, an oceanographic research vessel of special purpose 1-th rank "Academician Ageev" is intended for scientific research of the oceans. The technical specifications of the vessel were not officially disclosed.