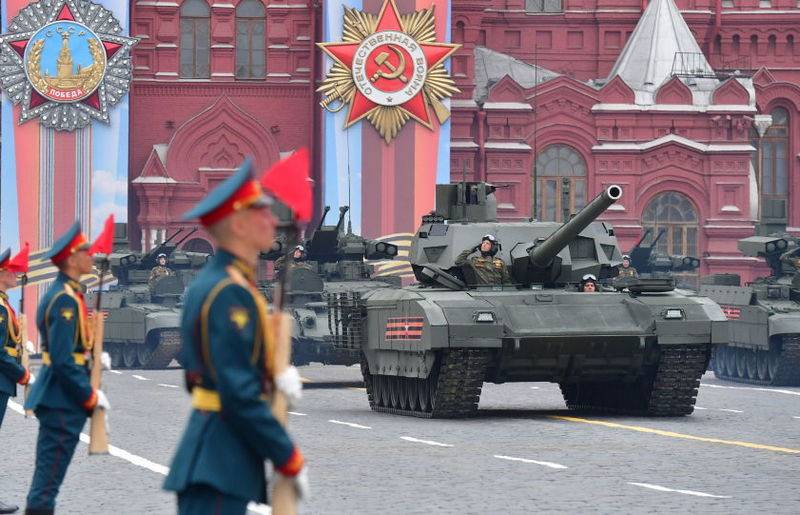 In the military parade on Red Square in Moscow on 9 on May 2020 in honor of the 75 anniversary of Victory in the Great Patriotic War, 14 of thousands of troops, about 300 units of weapons and military equipment, more than 100 planes and helicopters will be involved. This was told by Russian Minister of Defense Sergei Shoigu.
Speaking at a collegium of the Ministry of Defense on Wednesday, the head of the Russian military department spoke about plans to hold a military parade in Moscow on May 9 2020 of the year. He also reported on new types of military equipment, previously not shown to the general public, and which will take part in the main parade. According to Shoigu, we are talking about more than 20 types of equipment.
These are the Armata and Kurganets-25 infantry fighting vehicles with the new Dagger and Epoch combat modules, the S-300В4 and С-350 anti-aircraft missile systems, the Derivation-Air Defense anti-aircraft artillery system, the remote mining engineering system, Typhoon protected car family and much more
- the minister said.
According to Shoigu, units of the armed forces of foreign states will take part in the parade, the exact number is not currently known, since coordination is still underway.
In total, on 9 of May 2020 of the year in 29 cities of Russia more than 155 thousand people will take part in military parades and processions, about 3 thousand pieces of equipment will be involved there.