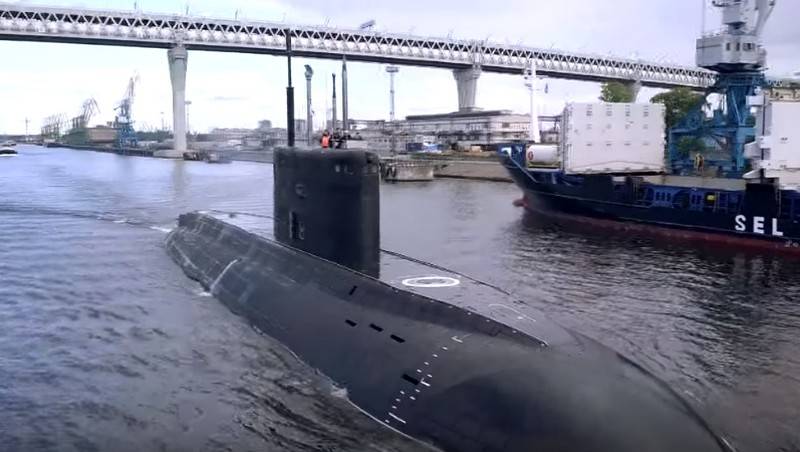 The first "Varshavyanka" for the Pacific
fleet
Petropavlovsk-Kamchatsky diesel-electric submarine will be transferred to the Russian Navy on November 25. The ceremony of raising the St. Andrew's flag will be held at the manufacturing plant Admiralty Shipyards in St. Petersburg.
According to the Ministry of Defense, the submarine Petropavlovsk-Kamchatsky successfully passed state tests, confirming the characteristics laid down in it. The crew took a full course in the development of ship systems, units and weapon systems based on one of the leading training centers of the Navy.
Currently, the submarine is at the factory, it completed the revision and finished. The submarine is fully ready for admission to the Russian fleet.
The contract for the construction of a series of six "Varshavyanka" for the Pacific Fleet was signed by the Russian Defense Ministry and the Admiralty Shipyards in September 2016. DEPL "Petropavlovsk-Kamchatsky" is the seventh submarine of this type, built for the Russian Navy and the first in a series for the Pacific Fleet. It was laid down on 28 of July 2017 of the year, launched on 28 of March 2019 of the year. Belongs to the third generation of diesel-electric submarines.
The length of the submarine is 73 meters, width - 10 meters, the maximum immersion depth - 300 meters, underwater speed - 20 knots, autonomy - 45 days. Crew - 52 person. The submarines are armed with six 533 mm caliber torpedo tubes, mines and Caliber rocket launchers.