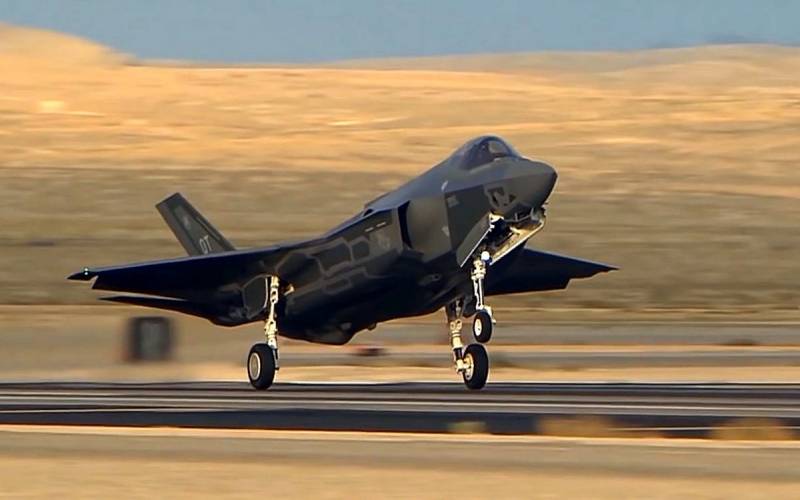 Frames with a demo version of piloting an American fifth-generation fighter F-35 appeared on the network. The demonstration flight was carried out by the F-35 air wing stationed at Nellis Air Base (approximately 15 km from Las Vegas, Nevada).
The plane, breaking away from the runway, rose several meters above it, after which the pilot began to make a sharp climb with access to the "hill". Moving for several seconds at an angle of about 80 degrees, the F-35 fighter began to approach the complex of figures of the top pilot - with a fragment of the Nesterov loop controlled by a corkscrew and the subsequent exit to the dive.
Demonstrating the spectacular capabilities of the aircraft and its skills, the American pilot "twisted" several "barrels", made combat turns, and reached low altitudes.
Piloting F-35 at the American base Nellis pic.twitter.com/eQHpNcVyol

- Volodin-Topwar (@VolodinTopwar) November 21st
This video allows you to objectively assess the capabilities of the American fighter. If we leave the capricious moods from the "ours is still better" series, then we can conclude that over the past few years, American manufacturers have worked in the right direction for themselves on the design of the aircraft and the development of the engine line, which, as you can see, allows the fighter to go into modes high maneuverability without any visible "tension" and concentration of imaginable and inconceivable resources.
Another issue is that the United States itself recognizes the following: only a third of the F-35 fleet is suitable for military operations due to numerous problems with maintenance and logistics of supplies. True, a third of the park is a very impressive arsenal, which would be foolish to try to write off.