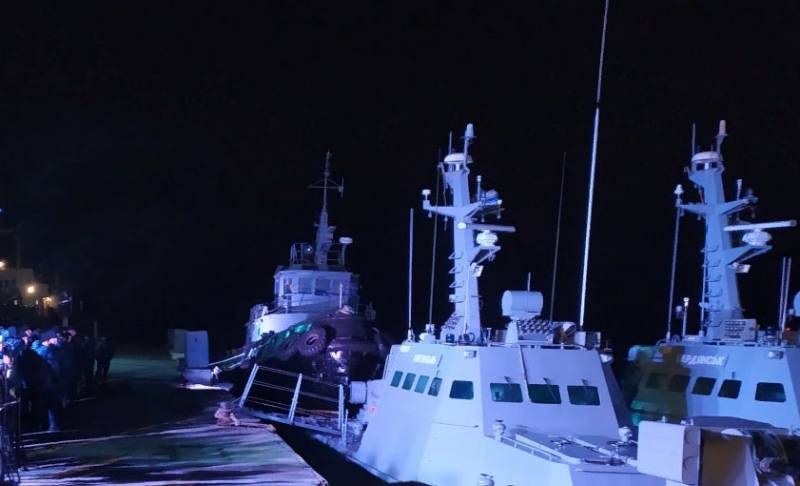 On the eve of the President of Ukraine took part in the "ceremony" of inspecting Ukrainian boats and tugboat handed over to Russia.
A few hours before the official events, the Navy Commander-in-Chief Voronchenko announced that the Russians had "killed" the Ukrainian ships, "having removed the ceiling lights, sockets, and toilet bowls." As political scientist Mikhail Markelov joked at the 60 minutes program, if the toilets were removed, then, apparently, as material evidence of the actions of Ukrainian sailors during a meeting with Russian border guards in the Kerch Strait region in November of 2018.
It is noteworthy that the visit of Vladimir Zelensky to Ochakov, where Ukrainian boats and a raid tug arrived, took place on 4 more than an hour later than planned. The fact is that the presidential board, which was supposed to deliver the head of the Ukrainian state after that visit to the Village of Lugansk, broke down in Chuguev and could not take off. As a result, Zelensky was in the Nikolaev region already dark, in turn, Ukrainian ships arrived in Ochakov the afternoon. As a result, it was not Zelensky who met the boat and the tugboat, but met Zelensky, who was most late.
Arriving in Ochakov, Zelensky said that measures would be taken to return weapons to Ukrainian artillery armored boats. Recall that the Russian investigation did not transfer armaments and ammunition to the Ukrainian side, leaving them as material evidence in the case of an armed violation of Russian maritime borders.
Zelensky was asked after his "inspection" of boats and a tugboat, which is exactly what they lack. The President of Ukraine said that he "consulted with the admiral" and came to the conclusion that there was a "shortage of parts of weapons."
According to the Ukrainian president, "everything will be on track in about three months."