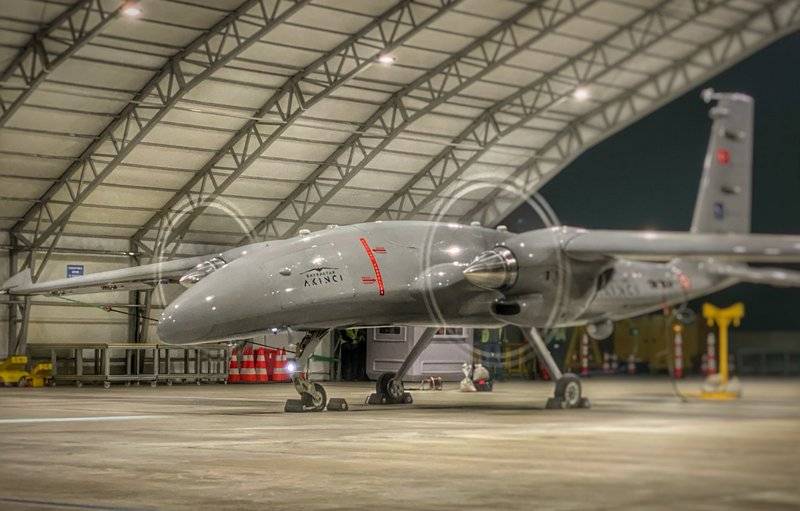 The Akıncı drone drone, created jointly by Ukraine and Turkey, passed the first ground tests, during which it made small runs on the runway. This was reported by Ukrainian media.
According to published data, the Akıncı UAV developed by Turkey with the installed Ukrainian AI-450 engines launched ground tests at the airport under the control of the technical personnel of the command center.
According to the Ukrainian military portal, Ukrainian power plants on the UAV were installed at the end of August this year after signing the agreement on the establishment of a Ukrainian-Turkish joint venture, which included Ukrspetsexport and Baykar Defense. Previously, they planned to install PD-222 turbodiesel engines developed by Tusas Engine Industries (TEI) on UAVs, but then the project was adjusted for Ukrainian power plants.
In September of the 2019 year, Ukraine sent to Turkey a second batch of engines in the amount of two units for these UAVs.
As previously stated in Ukraine, the new UAV is being developed taking into account the experience of armed conflicts of the 21 century and is intended mainly for the Ukrainian and Turkish armed forces.
Akıncı belongs to a new class of "heavy" drones. The wingspan of the UAV is 20 meters, they are equipped with two Ukrainian-made AI-450 engines. The flight altitude is declared in 12 thousand meters, the time spent in flight is a day. The drone is able to lift into the air up to 900 kg of weapons on external suspensions and up to 450 kg in the internal compartments of the fuselage. Among the weapons - guided missiles, a variety of conventional and high-precision bombs.
Demonstration of the first prototype UAV Akinci took place in the 2018 year.