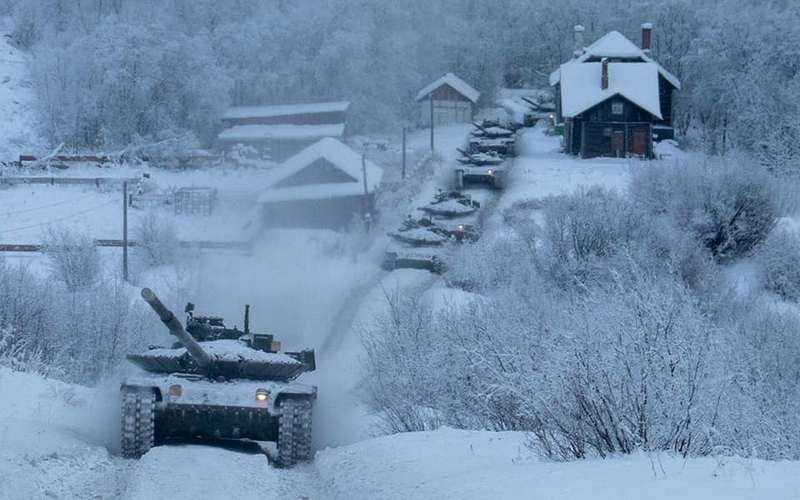 Norwegian army urgently needed new
Tanks
in connection with the deployment by Russia of 26 modernized T-80BVM tanks on the border with Norway and Finland. This was stated by the head of the communications department of the Norwegian army Per Espen Strand, the newspaper reports.
TV 2 Norge
.
According to the Norwegian publication, the modernized T-80BVM tanks received by the Northern Fleet of Russia are adapted to the Arctic conditions, and their engines are launched in forty degrees below zero. The speed of the tanks is 70 km / h. It is equipped with a gun with a range of up to three kilometers. The ammunition has a depleted uranium core and penetrates armor with a thickness of 590-630 millimeters from a two-kilometer distance.
The appearance of modernized Russian tanks on the border frightened the Norwegian military and led the Norwegian Ministry of Defense to urgently require the purchase of new armored vehicles, as well as strengthening the defense and strengthening the country's armed forces.
Modern tanks are an integral part of any trustworthy army. Both our allies and potential adversaries are modernizing. This deployment emphasizes that the Norwegian army also needs new tanks, and as soon as possible
- said the head of the communications department of the army, Per Espen Strand.
The publication notes that the army commander Eirik Kristoffersen previously sought to purchase 84 tanks for military needs, and the appearance of Russian modernized tanks can significantly accelerate their purchase.
Today the army is very modest in size and therefore needs to be significantly strengthened. If the authorities do not, our political freedom of action will be limited
- he said.
At the same time, the Ministry of Defense has already received four proposals to strengthen the country's defense capabilities.