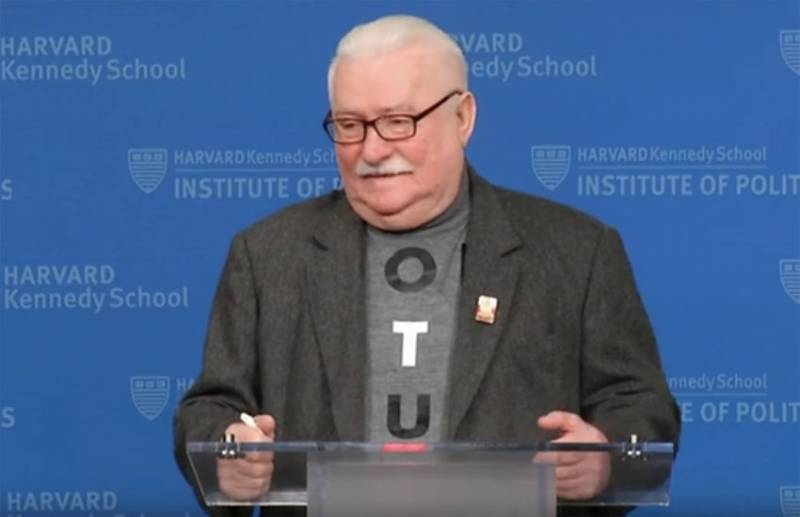 The ex-head of Poland (1990-1995) Lech Walesa arrived in the United States, who connected his visit with the 30 anniversary of the "Polish political transformation". He was received by US Vice President Mike Pence. The former leader of Polish Solidarity also addressed students and faculty at Harvard University.
Walesa's speech contained a significant amount of criticism regarding the current foreign policy position of the United States. After the speech of Lech Walesa, the USA itself stated that "the former Polish president came to the USA to teach Washington details of a foreign policy character."
According to Walesa, today's world is dominated by politicians-demagogues and populists. He added that "populists and demagogues need to take away their opportunities." At the same time, the former president of Poland did not ignore the question of Ukraine:
Obviously, there is no Europe without Ukraine. And this expansion of the EU and NATO should happen, but only today Europe does not have such opportunities, Europe has many problems, and it is not yet able to accept such a challenge as Ukraine.
According to Walesa (Nobel Peace Prize laureate, 1983), all European organizations must first be politically and economically reformed.
At the same time, Walesa said that Europe "lost its orientation on the leader, since the USA ceased to be that leader."
Ex-president of Poland:
The United States, first of all, needs to regain leadership. This should be reflected in the policy of interaction with the people, and not in the policy of the dollar and military operations.
Mike Pence said the United States "is doing a lot, keeping an eye on this," that Valensa retorted:
As a revolutionary, I now see neither ideas nor leadership. The American side reacts to modern challenges and world changes exclusively in the old style, which it seems tested.
As a result, Pence wrote on his Twitter account that meeting with Valencia was an "honor" for him, since Valenza was "an avid advocates of freedom and democracy."
Penny:
We will always admire the courage of this man who managed to steer Poland into the mainstream of democracy and dismantle the Iron Curtain.
Speaking to members of the American House of Representatives, Walesa said that today's times are "much more complicated than what was 30 years ago."
Walesa:
Almost all areas, and the United States itself, must change. We look at the USA with hope. Hope you generate ideas to help the world. Of course, I would like Poland to become the forerunner of such ideas, but we are too poor and weak for that.