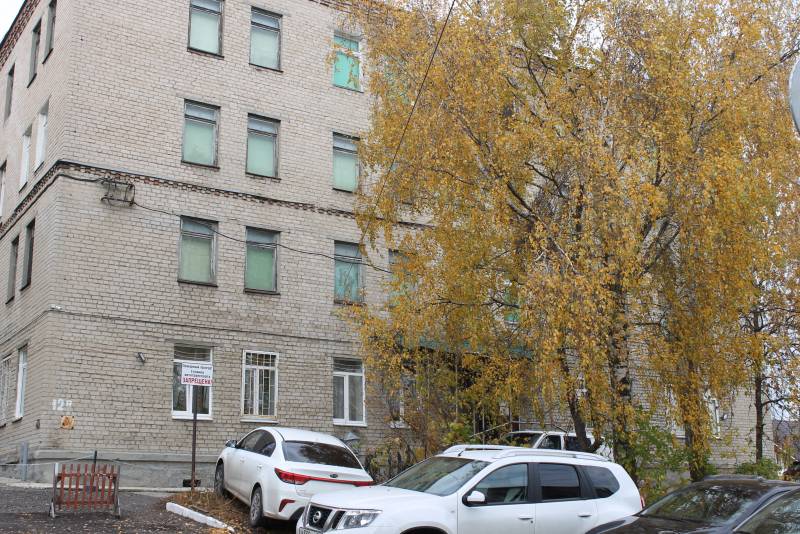 This is what the OFOPO GAPO building looks like. Which of my fellow countrymen I will not ask about him, especially if this is a young man, in response I get a surprised look: "Do we really have this?"
"Winston felt desperate. The old man's memory was just a dump of small details. You can ask him all day and you won't get any worthwhile information. So that
история
parties may be true in a sense; and maybe quite true. "
J. Orwell. 1984 "
History and documents.
On "Military Review", in discussions between readers, an appeal to the past constantly appears as a kind of standard with which they compare the present. And it's clear why this is so: the present is simply nothing more to compare. The memory of the past is preserved in our heads, but selectively. We remember individual events very vividly, as if they had happened yesterday (although they took place twenty years ago), but we don't remember what we ate for dinner last week. Folk wisdom indicates to us a defect in our memory: the memory of the young is not equal to the memory of the old, that is, in youth, apples were sweeter, and the trees were taller. The bad is forgotten faster than the good - this is the main algorithm of our being. Books and newspapers help us remember everything. As well as documents stored in archives.
"This sign, this house ..."
And now the question. Do the average citizens of any country have access to the information contained in them? Theoretically - yes, they do. Practically not, "they don't need it." But they have a need for information. Therefore, they watch TV, read books and newspapers. Do they contain reliable information? The answer should be: when how. Some newspaper articles and books, as well as TV shows, are absolutely true. In other cases, they express the subjective opinion of their authors. Often based only on their own understanding ... "the moment of truth." That is, for example, there was a "moment of truth" when Great Britain supplied the USSR with Hurricane fighters, which the Red Army needed as air, and Pravda wrote about them as good, maneuverable and well-armed vehicles. Then the "trend" changed, and they immediately became bad, as the same aircraft designer Yakovlev wrote in a series of his memoirs. There were photographs of aircraft, participants in the war, but there was no photograph or text from the newspaper Pravda. Why? Because there was freedom of speech and freedom not to use it. The same can be said of the "Report of the Soviet Government on Lend-Lease Supplies," published on June 11, 1944. It was in the printed mouthpiece of the Central Committee of the All-Union Communist Party of Bolsheviks, but there was no mention of this source of information in memoirs. Why? But this information did not coincide with the general "flight of thought" that had in the era of the USSR. Well, it's clear that at that time only the people who taught the history of the CPSU at the university, having the form of access to secret documents No. 2, could go to the OK CPSU archive.
That's all, like 34 years ago ...
Well, then back to our memory again. Can it be considered a reliable source of information? Yes you can! But only if it is confirmed by statistical reports, archival documents and to a lesser extent the content of newspaper articles and books. Moreover, since we are talking about books, it's only those of them, which again contain links to archives and statistical materials.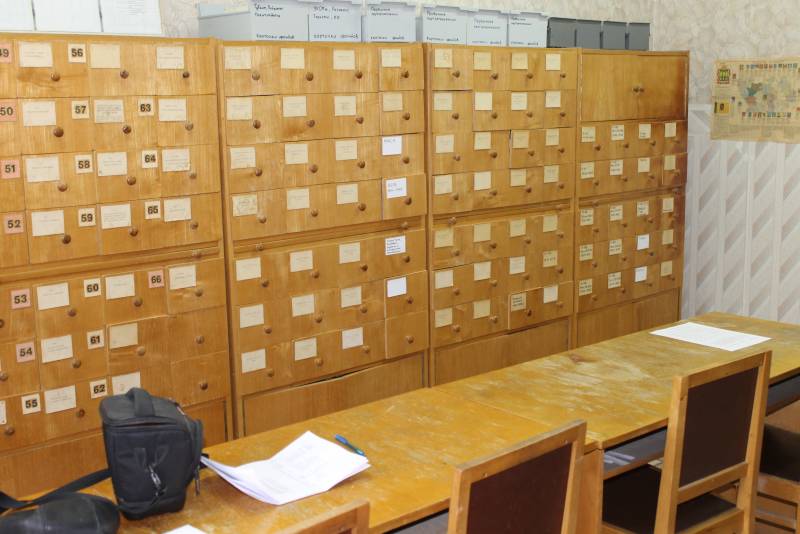 Here is a view of a cabinet with cards for documents of those years.
Of course, it can be argued that they are falsified, and some readers of VO say so. However, in fact, such falsification is practically impossible. For one simple reason: the volume of cross-documents and sources of information is huge, and most importantly, the forger does not know the trend, that is, the direction in which the information should be changed. Because one thing is important today, and another thing tomorrow. It's easier to either not let people into the archives at all - and not without reason that significant amounts of information on the past war are closed until 2045 — or to ignore the fact that someone there will find something, both positive and negative. Do you know why? Because there is simply no past. Here it is, and that's all: nothing that lies outside the memory of a really living individual, in fact, simply does not exist.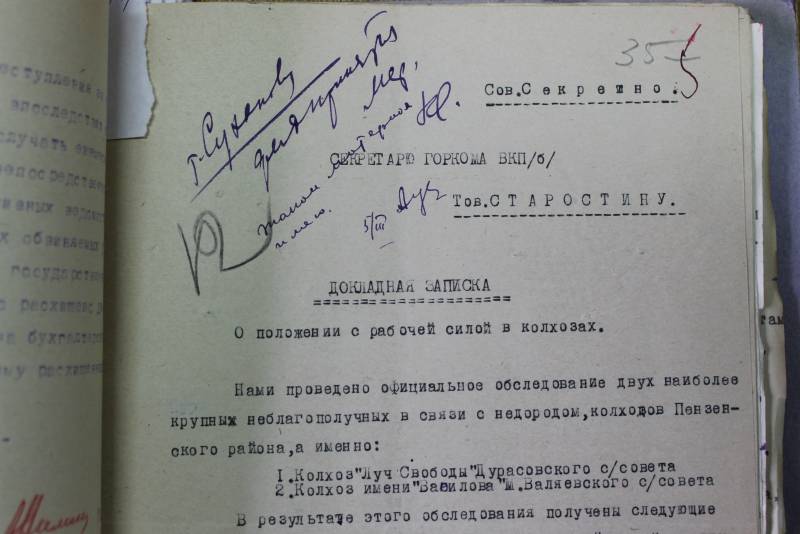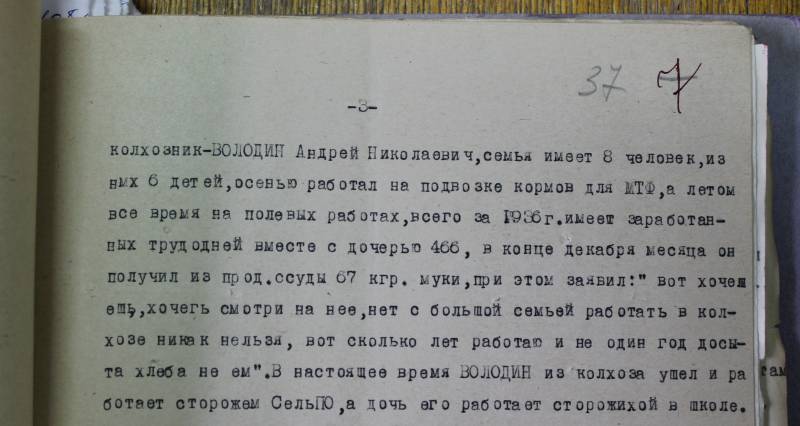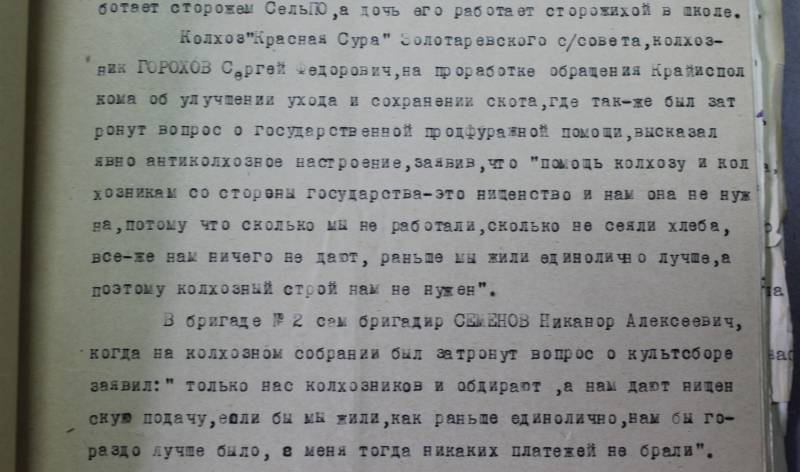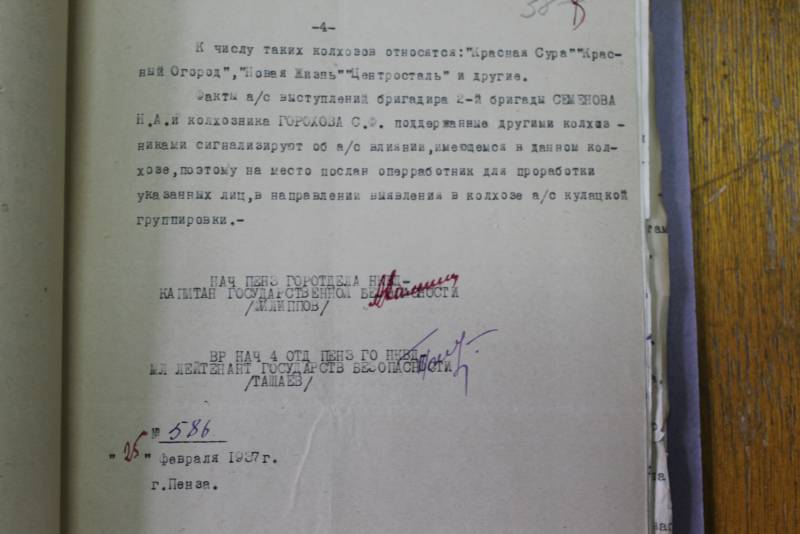 Please note that the document dates back to 1937. That is, people continue to express dissatisfaction no matter what!
Why such a big introduction? But to what. The last time I happened to work in the archive of the regional committee of the CPSU of the Penza region in the last century, from 1985 to 1988. At the same time, these were the archives of the OK CPSU of the Kuibyshev and Ulyanovsk regions, and the central archive of the Komsomol Central Committee, then, in 1989 and 1990, the archive of the Moscow Oblast in Podolsk, and in our time after 1991, the Penza Region State Archive became my place of work, primarily newspapers stored there and all kinds of statistics. And now - precisely in connection with the comments on the VO website, I wanted to update my memories of the Penza Regional Party Archive. Now it is called a little differently: OFOPO GAPO - "Department of funds of political organizations of the state archive of the Penza region. He is still in the same four-story building on Volodarsky Street, it does not have an elevator, but at the entrance they put a frame and an electronic rotating turnstile, which the guard opens. There are few employees inside, but they are. The reading room has not changed much. It has all the same cabinets with the same cards. But the director and archivists already have computers and copiers.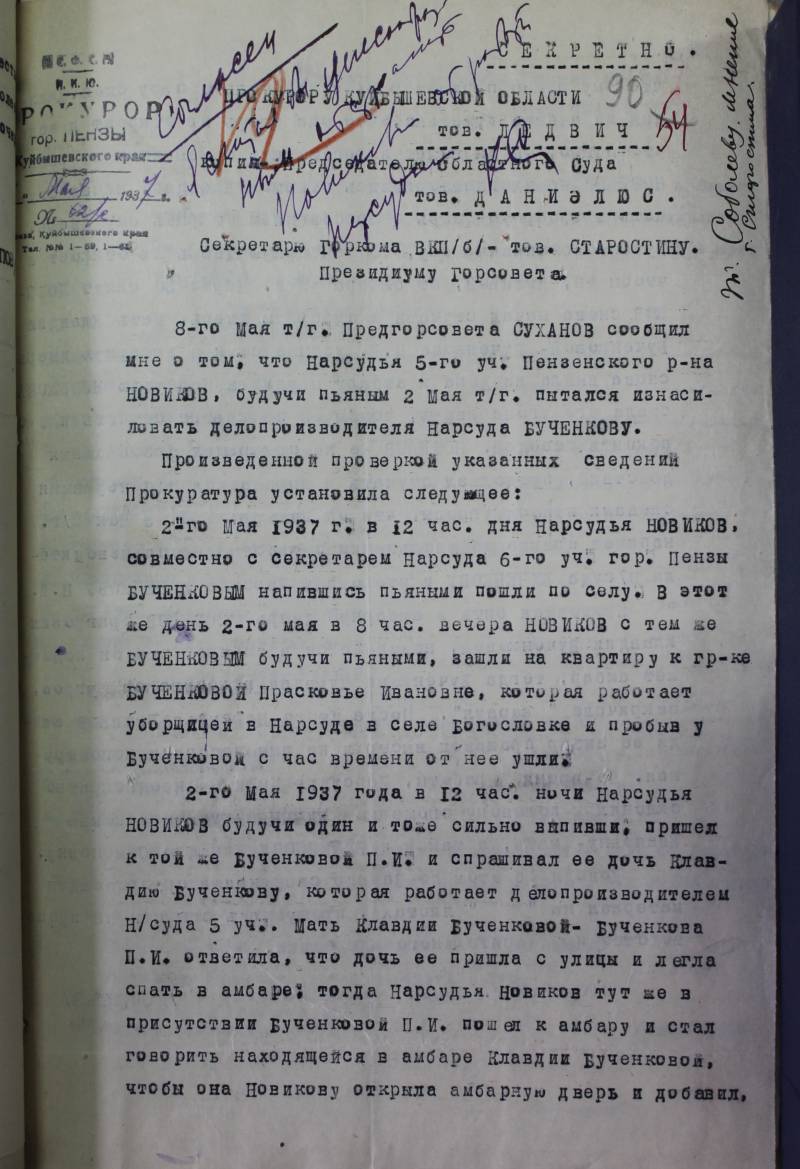 But this is just a ready-made plot for the same Zoshchenko.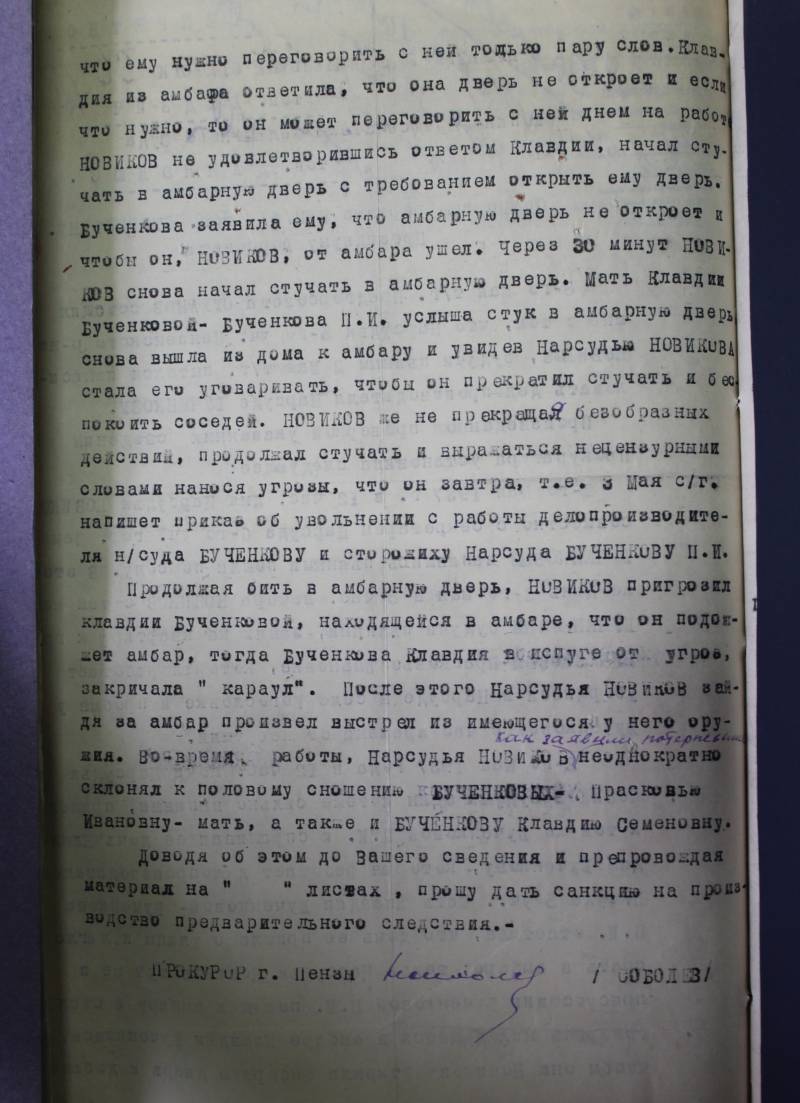 And what language ?! Juicy, capacious ... "clerical." And the conclusion suggests itself: at all times people really wanted to multiply! Even the builders of a new society.
At "my time", a girl sat in the reading room and issued documents. Now the ordered cases bring you, and you keep them in an iron (not lockable) cabinet. In Soviet times, this girl was a very significant person. We, young graduate students, of course, were tired of looking for documents on the topic of our dissertations and ... brought her a donation - a box of chocolates. For our kind attitude towards her under the conditions of food shortages, she brought us the "interesting" - first of all, the personal affairs of the communists, which were examined at the OK bureau. They were read as exciting detective stories: he stole, this one drank and rowdied, he was engaged in sodomy. It is clear that writing out information from cases that are not related to the topic of your scientific work was strictly prohibited. Everything that you "earned" in sweat should be written down in a notebook, which was then handed over for examination and all numbered pages in which there was something "wrong" were ruthlessly deleted according to the principle: it's better to re ... than not ...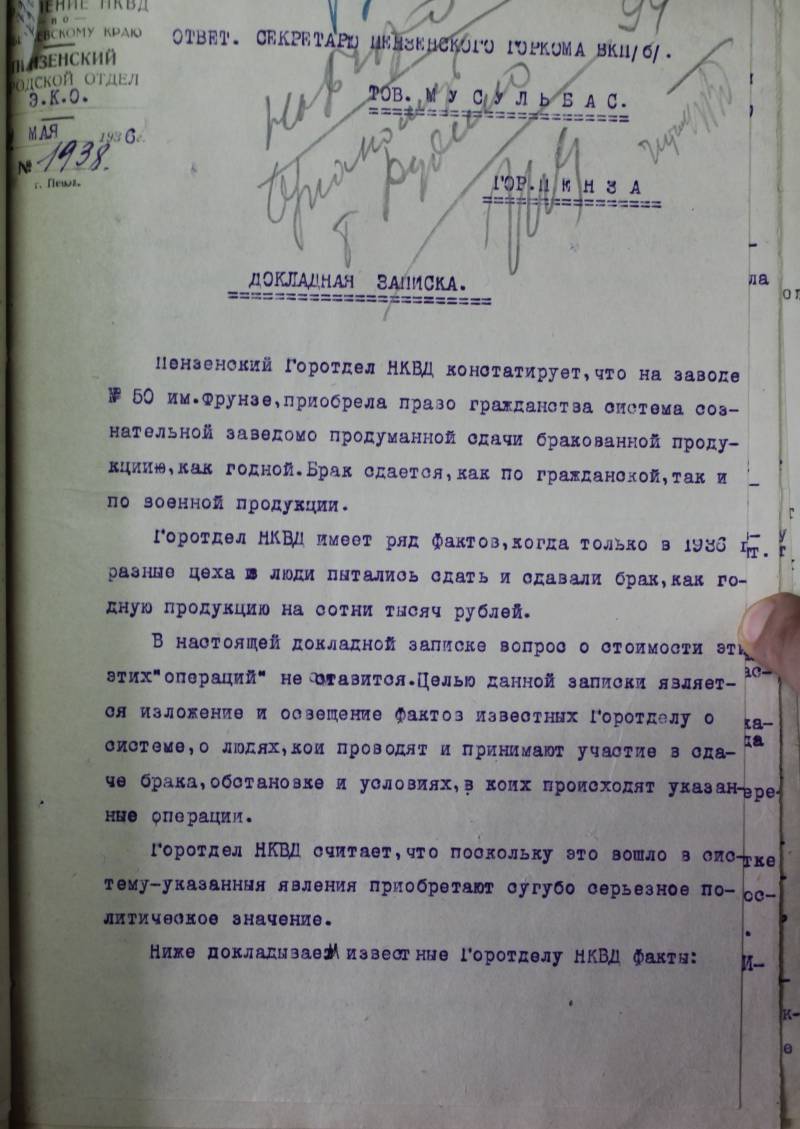 But in this lecture this is about marriage ... Marriage at a military factory that simultaneously produced consumer goods. And this is also 1937. In the country there is a massive struggle with spies and pests. But judging by these documents, people at this plant are simply not afraid of anything ...
Now, whatever you want, you can write it out, or you can even take a camera and photograph the pages you need. Or make them photocopies. Ten rubles per sheet, which, in general, is not very expensive.
Interestingly, even today, researchers are working in the reading room of our OFOPO GAPO. One collects information about his grandfather, wants to write a family chronicle. Why is he doing this? But it's interesting, and what can I say? Another, and not a university teacher, not a candidate of science, not an assistant professor, collects materials on ... the civil war, or rather, how it took place on Penza land and how our fellow countrymen participated in it in order to write a book about it and ... publish it at your own expense. And strives for maximum objectivity! When I heard about this, I almost fell off my chair in surprise, but his approach to disseminating information at all, as it turned out, was not at all surprising. Well, time is changing, people are changing.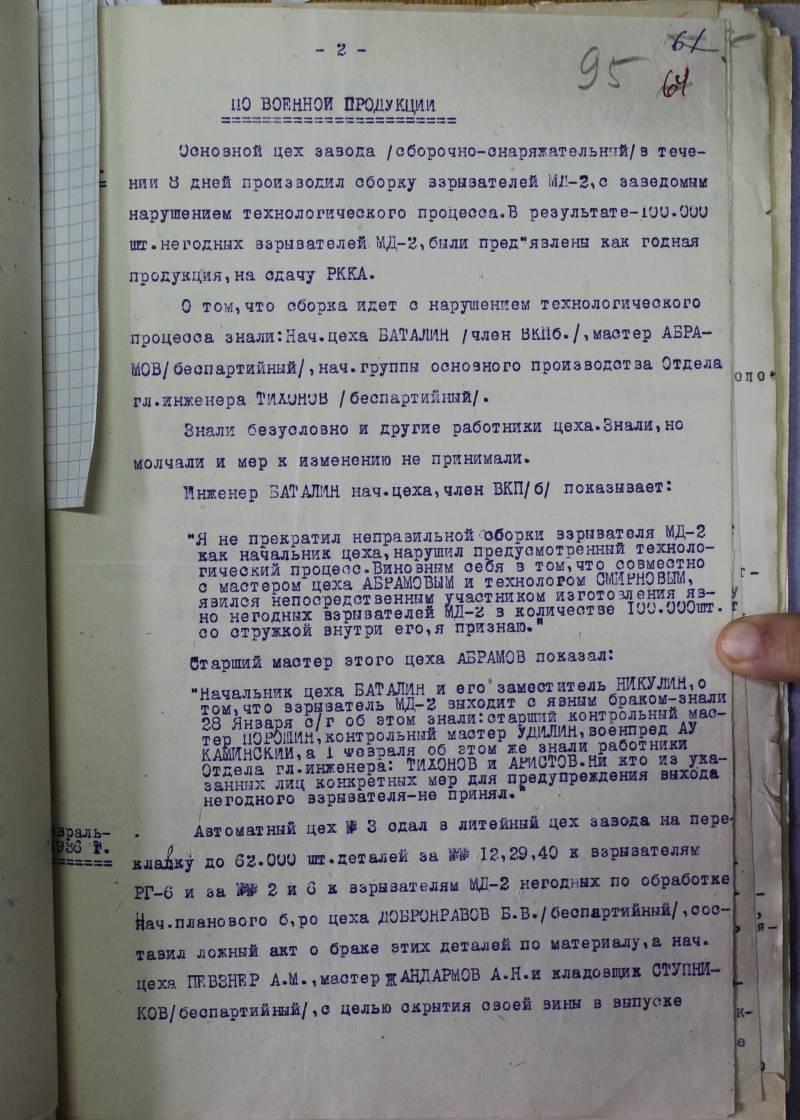 The volume of marriage is simply colossal ... How was this even possible?
The materials in the archive are just the sea. So even a simple review of archive cards allows us to draw a number of important conclusions regarding our past. There was no such sphere of public life in the USSR from 1918 to 1991, in which the party did not steer absolutely everything. Starting with questions of artificial insemination of pigs and increasing egg production of laying hens and to controlling the repertoire of theatrical productions and plans for TV and radio broadcasts of the local television center. That is, the party was not only that it set the general "trend" with the editorials of the newspaper "Pravda" (and "Penza Pravda"), it also wanted to "keep abreast" and kept it up!
But what about the tips, you ask? They, then why? Could the practice of collective farms, state farms and laying hens be entrusted to them? But no, it turns out impossible. That is, there is a duplication of functions, parallel control of the quality of work and its effectiveness.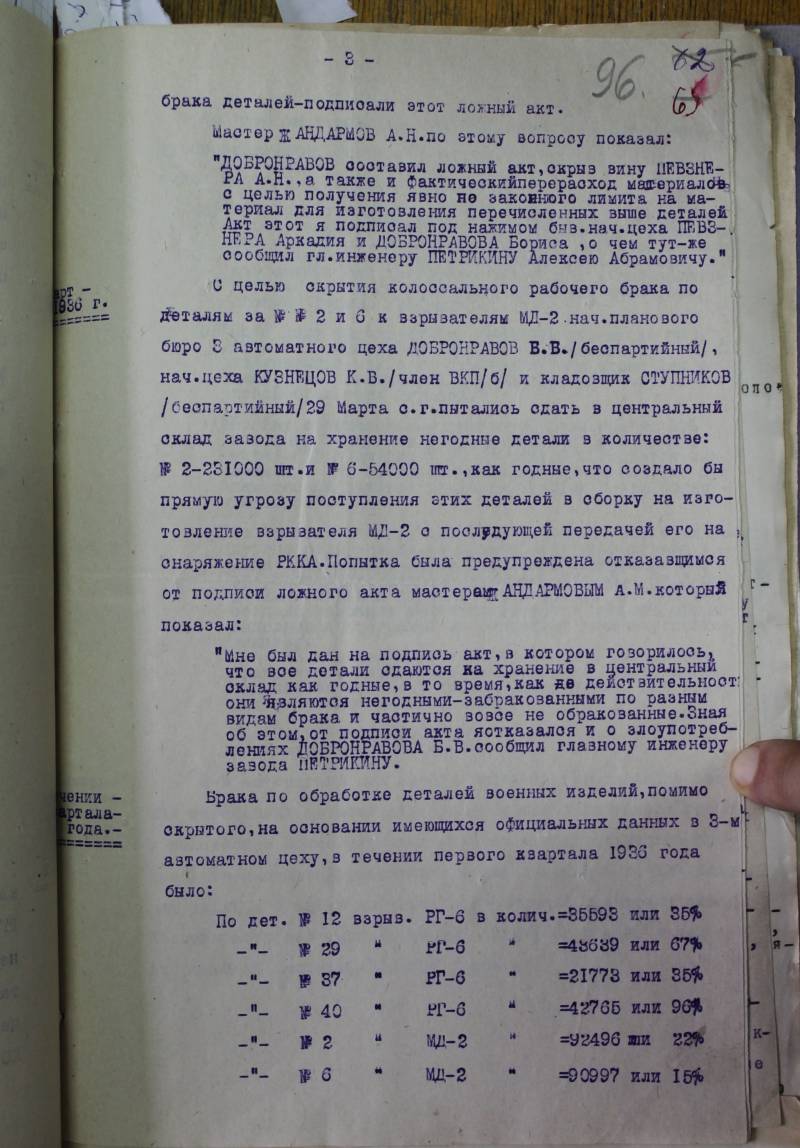 Marriage of military products reaches 70%. Where does the factory management look? After all, this is the defense of the country! But our people do not care. And here it is not about two or three pests. This is a mass phenomenon. So much for the effectiveness of local party leadership. Well and good - here and now it has been revealed. But the whole question is, what willful decision does not immediately reduce the percentage of marriage ...
And now to the question of the effectiveness of such a party leadership. At one time, I wrote and defended my Ph.D. thesis on the topic of party leadership in the scientific and technical work of university students in the Middle Volga during the 9th Five-Year Plan. And ... the collected materials allowed us to draw a conclusive conclusion that this very guide, firstly, was, and secondly, that this very creativity tended to grow, from which, in principle, it could be concluded that it was this leadership itself was its cause. But at the same time it turned out that the effectiveness of this leadership, like the NIRS as a whole, was not at all great. Otherwise, why make decisions demanding "enhance, deepen and intensify"?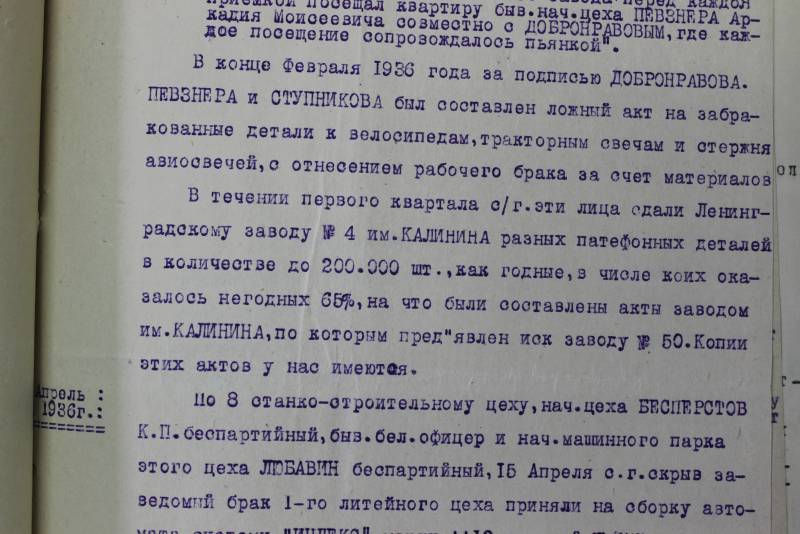 But here the marriage reaches 65% ... And if such are the indicators for the Penza plant alone, then how many such defects were made throughout the country? And then what was the effectiveness of our "socialist production"? After all, there were hundreds of such plants ...
That is, other factors acted in society, which, in addition to this party leadership itself, determined the development and growth of scientific research work. However, how could one look for them without going beyond the scope of the proposed topic? No way!
Today we have a unique opportunity, without being limited by anything, to calculate, for example, by years, what percentage of the Penza communists and regions were expelled from the party (and convicted!) For sodomy and what their percentage (explicit) in the party was, we can examine the number of accepted in the party of participants and order-bearers of the Second World War, and then expelled from its ranks for ... theft, drunkenness and other anti-social and anti-party acts; we can calculate the number of anti-Soviet statements made by collective farmers and workers, according to the NKVD and the KGB, which regularly lay on the table to the secretaries of the OK VKP (b). But ... this will require tremendous work, which, in principle, no one needs today. It is not needed because it is not able to change anything, but simply adding negativity to our knowledge of the past is basically simply pointless. We already know that everything ended in the events of 1991.
But, nevertheless, all this is interesting. It is interesting to get a few slices from the picture of the socio-political and economic life of our country, about which the individual memory (sorry for the pun!) Did not save the memory! Let these be fragments of what our fathers and mothers, grandfathers and grandmothers had to face in their daily lives of that already distant past from us, about which many readers of VO (if not most of them!) Even simply have no idea.
That is ... it will be a new series of articles written on the basis of the materials of the party archive of the Penza region. It is possible that some of our readers, let's say, first of all, those who are now retired and who want to do socially significant things, this, in turn, will encourage visiting such archives in their cities - regional centers, and they too can find in them a lot of interesting things.
To be continued ...