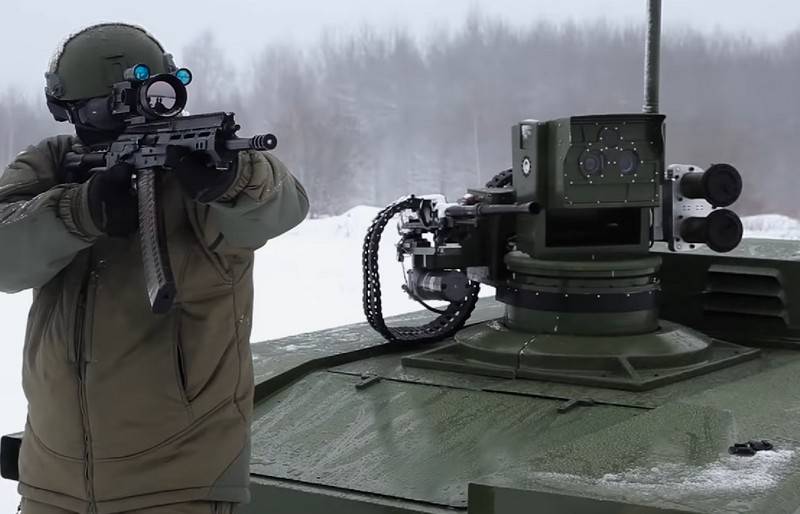 In Russia, the testing of the latest Marker combat robot will continue. The next stage with test shooting in offline mode is scheduled for the first half of the 2020 year. This was reported by the press service of the Advanced Research Foundation (FPI).
According to the report, in the first half of next year, the Marker robot is scheduled to be fired offline. Testing will be carried out on a crawler platform variant that passed sea trials in July of this year. The creation of two Marker robotic platforms on a wheeled chassis will also be implemented during the second test phase.
Shooting tests of the Marker experimental robotic platform are planned in the first half of 2020. During testing, the platform will hit targets offline using various types of payloads
- Said the press service.
The start of testing the Marker robotic platform, created jointly by the Advanced Research Foundation and the Android Technique Research and Production Association (the developer of the anthropomorphic robot Fedor who worked on the ISS), was reported back in early March this year. It is assumed that on the basis of this platform the interaction of ground-based robots, unmanned
aviation
and special forces. The platform is designed in a modular fashion. In the future, such a technical solution will quickly replace the payload, surveillance systems, as well as upgrade the robot.
"Marker" is an experimental robotic platform, a designer, on which it is possible to work out models of the future combat operations
- stated in FPI.
Earlier it was reported that at the training ground in Magnitogorsk in mid-October of this year, demonstration tests of the Marker universal combat robots platform took place. Two crawler robotic platforms equipped with a unified payload module and a cluster module for launching unmanned aerial vehicles - small quadrocopters participated in the tests.