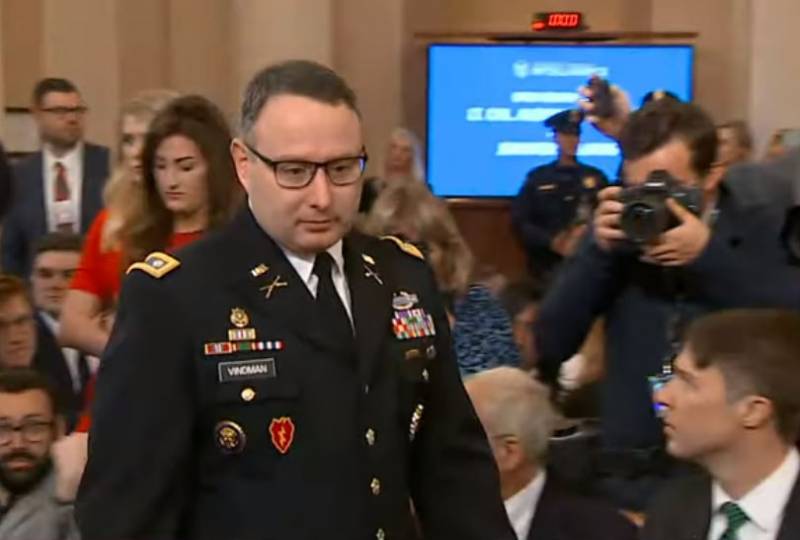 Information appeared in the Western press that high-ranking Ukrainian officials addressed foreign citizens with proposals to take up certain posts in the Cabinet of Ukraine. So, in the American edition of The Daily Beast published material that describes the proposal coming from (at that time) Secretary of the Ukrainian National Security and Defense Council Alexander Danilyuk to the officer of the American Security Council, Lieutenant Colonel Alexander Windman.
The publication writes that Danilyuk at least three times suggested that the American officer think about the possibility of taking the post of head of the Ukrainian Ministry of Defense. Windman announced such conversations the day before at a regular hearing in the US Congress on the so-called "Ukrainian case."
It should be noted that recently, American officials, representatives of special services and other government agencies in fact "drain" any information about conversations with Ukrainian officials and politicians. Windman is no exception.
From a statement by an American officer at congressional hearings:
I did not take these statements seriously, but he (Danilyuk) was persistent. I was offered at least three times to take the post of Minister of Defense of Ukraine.
This conversation between Danilyuk and Windman took place on the day when an American officer flew to Kiev for the inauguration ceremony of President Zelensky.
The Ukrainian media asked to comment on Mr. Danilyuk Vindman's statements (Danilyuk is no longer the Secretary of the National Security and Defense Council). The ex-official of Ukraine said that his words "were a joke," adding that "in the end, we both just laughed."
Recall that it is Windman in the United States who is the key "witness" in the so-called case of "Trump pressure on Zelensky during a telephone conversation." The Republicans call Windman the "registered figure of the Democratic Party."
It is important to note that the practice of appointing foreign citizens to ministerial positions is not new for Ukraine. In the government of Yatsenyuk, at one time many portfolios were handed out to individuals with American and other foreign passports.