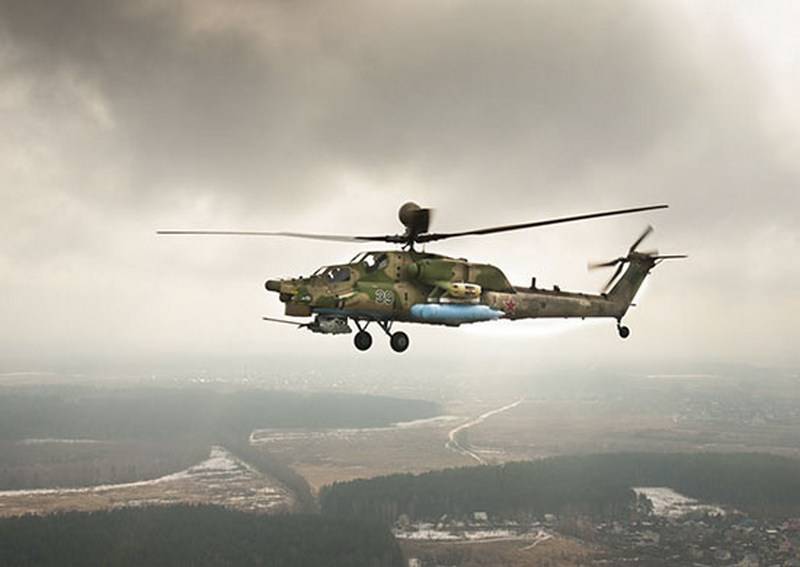 The flight units from the 4 Air Force and Air Defense Army of the Southern Military District received a batch of new Mi-28UB "Night Hunter" military training helicopters and the Mi-8AMTSH Terminator military transport helicopter. This was reported by the press service of the district.
The flight technical staff of the 4 Army of the Air Force and Air Defense of the South-Eastern Military District has begun accepting helicopters received from manufacturers in parts deployed in the Rostov Region and Krasnodar Territory. The press service does not list the number of Mi-28UB helicopters, confining itself to reporting that the Mi-8AMTSh arrived in a single copy.
The engineering services of the units where the new helicopters arrived are ready to carry out the necessary complex of routine acceptance work. In the near future, helicopter crews will make control flights, including a series of take-offs and landings, flights at altitudes up to 1000 m, as well as checking the operation of systems under loads and overloads.
Mi-28UB is a combat training modification of the Mi-28N Night Hunter attack helicopter, designed to train the flight crew of Mi-28Н helicopters. In this case, the helicopter is able to solve the full range of combat missions.
The Mi-28UB helicopter is equipped with a second set of control system in the front cockpit, where the instructor is located in the training version of the application, and the pilot-operator in the combat version. To ensure the necessary ergonomic parameters of the crew's workplaces, the helicopter fuselage design was changed: the front cockpit was expanded, the glazing area was increased and the visibility of the pilot-operator (instructor) from the front cockpit was improved.
The Mi-8AMT helicopter is based on the multi-purpose Mi-8AMT. The machine retained the capabilities for landing, additionally receiving a complex of guided weapons and enhanced armor. The maximum take-off weight is 13 tons, maximum speed 250 km / h, cruising 230 km / h, flight range 610 km. The Mi-8AMTS equipment includes a new avionics complex, including, in particular, a weather radar, satellite navigation equipment and infrared equipment, as well as night vision goggles for pilots. The defense complex has screen-exhaust devices and a trap ejection system.