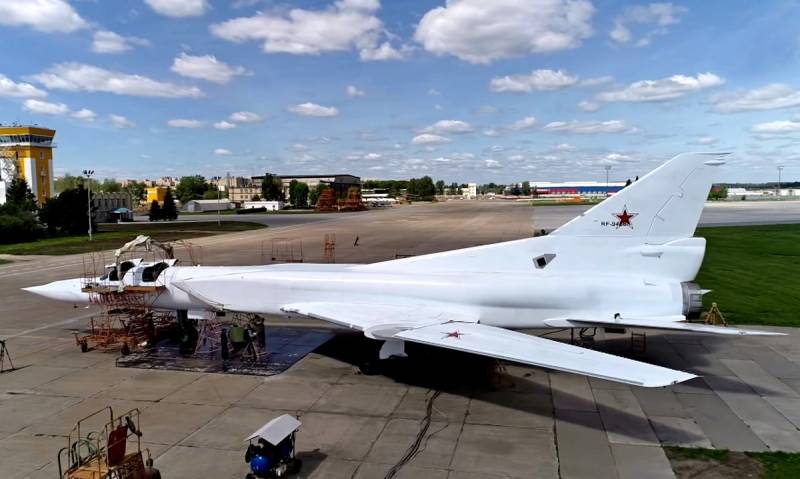 Russia removed from conservation and sent for modernization one long-range missile carrier Tu-22М3. It is reported by the American edition
Military Watch
.
The United States and Russia, along with the development of new strategic bombers, are continuing the modernization of those already in service, including removing planes from conservation. According to the publication, Russia removed one long-range Tu-22M3 missile carrier from storage at the Kamenny Ruchey base near Khabarovsk and sent it to the Kazan aircraft plant to undergo modernization to the level of Tu-22М3М. At the same time, the authors of the note note that they do not know whether it is the first one that was removed from conservation and how many planes Russia is preparing to remove from storage, and after the work is done, return to service.
The authors note that both Russia and the United States have a large number of mothballed aircraft in storage, and in the event of a threat of a military conflict, several squadrons of the whole can be put up. Both countries have mothballed not only long-range bombers, but also fighter jets, interceptors, and military transport aircraft.
The publication notes that the modernized Tu-22М3 bomber will become the carrier of the dagger hypersonic anti-ship missiles. Thus, the aircraft will retain the role of "killer aircraft carriers" - but with qualitatively new capabilities.
On our behalf, we add that the Russian Ministry of Defense has not officially announced the removal of the Tu-22М3 bomber from conservation, but this is in the order of things: they will modernize - they will inform.
Recall that the Tupolev Design Bureau is working on the complete modernization of the Tu-22М3 bomber-rocket carrier to the level of the Tu-22М3М. The modernized aircraft made its first flight at the end of December last year.
As previously reported, during the modernization, the Tu-22М3М bomber receives new digital on-board radio electronics based on the Russian element base, new navigation and sighting equipment, communications equipment and electronic warfare. A new engine and fuel automation system is installed on the aircraft. Engines are being replaced with new NK-32-02 from Samara PJSC Kuznetsov. Significantly improved cab ergonomics. Many aircraft systems are unified with the Tu-160M. The new version of the aircraft can carry X-32 cruise missiles and hypersonic missiles.
This summer, data appeared that the upgraded Tu-22M3M was able to refuel in the air, increasing the combat radius (with refueling) to 8 thousand kilometers.