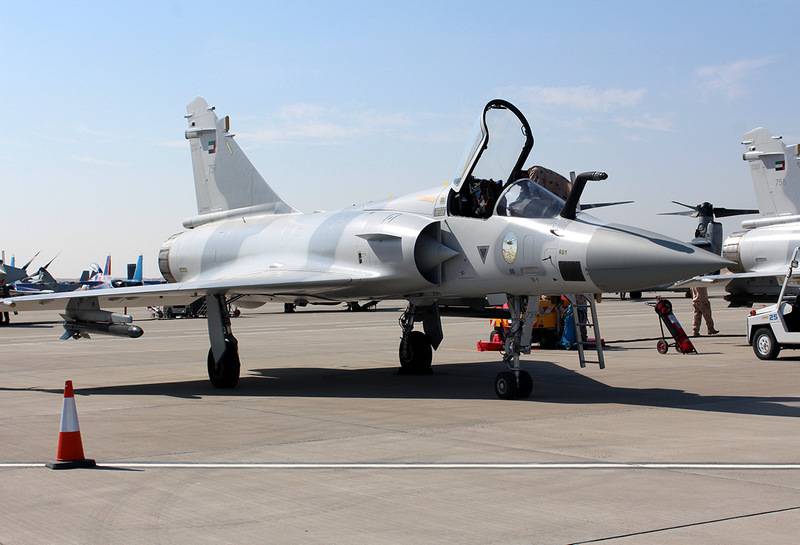 The Ministry of Defense of the United Arab Emirates has finally signed an agreement to modernize the Mirage-2000-9 fighter jets that are in service with the country's air force. This was reported by TsAMTO with reference to the statement of the Assistant Deputy Minister of Defense of the UAE, Major General Abdullah Al-Sayed Al-Hashemi.
As part of the Dubai air show, the UAE Ministry of Defense signed an agreement with the French company Dassault Aviation for a total cost of $ 490 million to modernize the Mirage-2000-9 fighter aircraft in service with the country's air force. Details of the upcoming modernization were not disclosed, but earlier it was announced that they intend to equip the aircraft with a TALIOS long-range container targeting system (TArgeting Long-range Identification Optronic System) and Thales RDY-3 radar. It is possible that in the course of the work other elements and systems will be installed. It is assumed that the re-equipment of the aircraft will be carried out over the next 10 years.
For the first time, the intention to sign a contract with the French to modernize the existing Mirage-2000-9 fleet in the UAE was announced two years ago, during the Dubai Airshow in November 2017.
The UAE Air Force adopted the 5 Mirage single-engine fighters in the 70 of the last century. In 1998, the UAE purchased 32 new Mirage-2000-9 aircraft and upgraded to this version about 30 the previously acquired Mirage-2000. To date, the Air Force of the 62 country of the Mirage-2000-9 fighter in three versions: EAD (single), DAD (double) and RAD (reconnaissance).