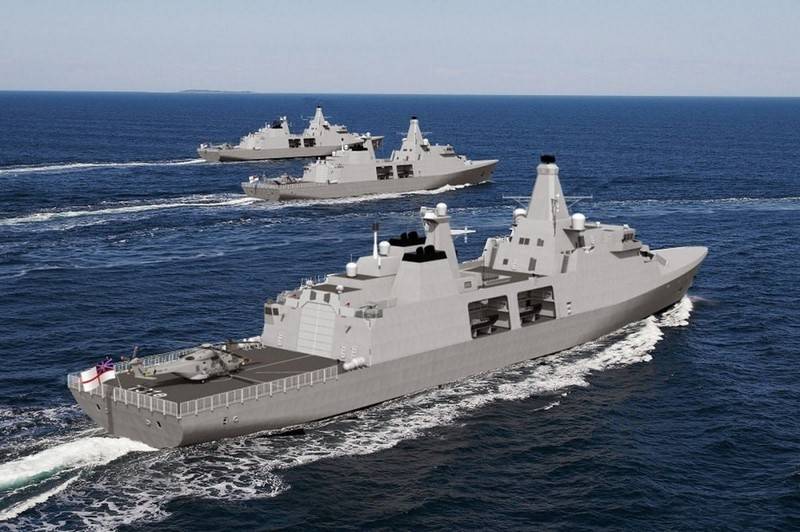 Frigate of the Arrowhead 140 project, selected as the basis for the Type-31 frigates
In the future, the British Navy plans to replenish "budget frigates." According to TsAMTO, the British Ministry of Defense has confirmed the signing of an agreement with Babcock on the design and construction of a series of multipurpose frigates of the Type-31 class.
According to the center, the signed contract provides for the construction of a series of five frigates. The cost of building one ship should be no more than 250 million pounds, and the entire series - no more than 1,25 billion pounds. For the entire program, which also includes tests of frigates, commissioning, training, spare parts, etc. allocated no more than 1,98 billion pounds.
According to Babcock, the development of the Type-31 frigate project began immediately after the signing of the agreement, based on the 140-meter frigate Arrowhead-140 based on the Iver Huitfeldt class frigate project Adopted by the Danish Navy. It is planned that the laying of the lead ship of the series will take place in 140, launching in 2021, and commissioning no later than 2023 of the year. The entire series of five frigates should go into operation before the 2025 year.
It is planned that the new frigate will have a total displacement of about 5700 tons, length 138,7 m, width 19,8 m and draft 4,8 m. Crew no more than 100 people, speed - at least 28 knots, cruising range - 9000 nautical miles at 12 knots. The peculiarity of the ship is the availability of space to accommodate 65-75 people of the marine corps or special forces.
The ship should be armed with: a promising anti-ship missile system (type not yet defined), anti-aircraft missile system, anti-aircraft artillery system, artillery mount with a caliber of up to 127 mm, possibly torpedo tubes and a hangar for two reconnaissance helicopters.