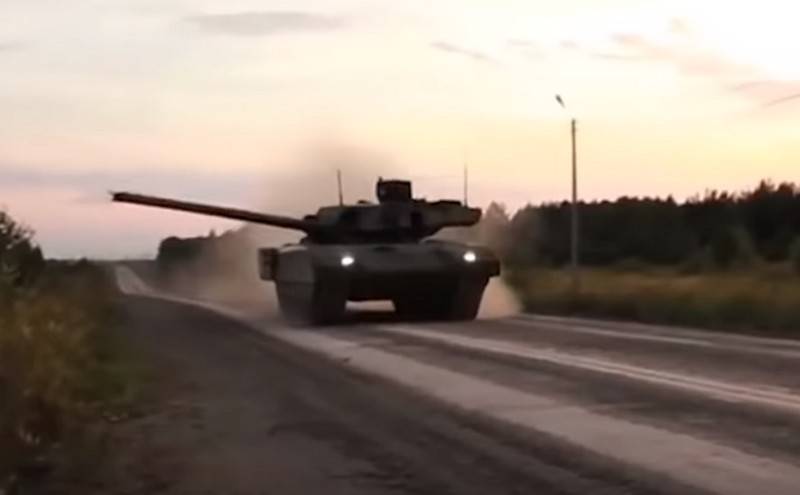 The first pilot batch
tanks
The T-14 Armata will be delivered to the Russian armed forces at the end of this or the beginning of next year. This was stated by the head of Rostec Sergey Chemezov in the framework of the Dubai Airshow 2019 air show held in Dubai.
According to Chemezov, a pilot production batch of T-14 Armata tanks is currently being manufactured, and its entry into the troops is expected at the end of the 2019 year - the beginning of the 2020 year. At the same time, the head of Rostec did not voice the number of tanks in the first batch.
At present, preparation for production is being completed, and a pilot batch has been manufactured. Its delivery to the Armed Forces of the Russian Federation will take place at the end of 2019 - beginning of 2020 of the year
- he said.
At the beginning of this year, the Izvestia newspaper, citing sources in the Ministry of Defense, reported that the first batch of X-NUMX T-12 Armata tanks would go into service with the Russian army at the end of the year. In addition to the serial T-14, the troops will receive 14 armored repair and evacuation vehicles (BREM) T-4 based on the "Armata". At the same time, it was claimed that the tanks would go into the series in a modified form after testing: they installed new systems and replaced some components and assemblies.
The first serial "Armata" will take part in the Victory Parade on Red Square, after which 12 tanks and four ARVs will supposedly be sent to different military units located in different climatic zones, for testing in conditions close to combat.
T-14 "Armata" - the newest main battle tank, the main innovation of which is an uninhabited tower. The gun is controlled remotely from an armored capsule located in the tank body. Equipped with 125-mm gun 2A82, diesel engine with a capacity of 1,5 thousand hp and active protection complex "Afganit".