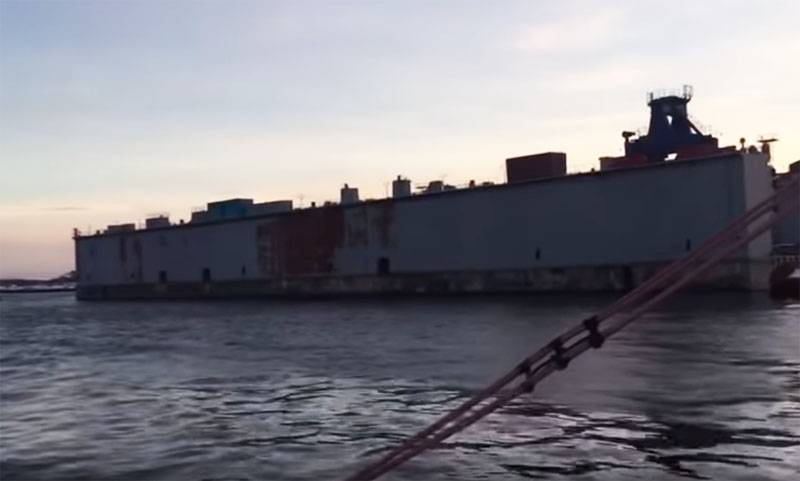 More than a year has passed since the accident at the shipyard in the village of Roslyakovo, Murmansk Region. This is an accident, as a result of which the floating dock PD-82 sank at site No. 50. It carried out repairs of the heavy aircraft-carrying cruiser Admiral Kuznetsov.
Then, when the PD-50 was flooded, the fallen cranes damaged the only aircraft carrier of the Russian Navy, breaking through its deck in the vicinity of the aerofinisher. The official reason for the flooding of PD-50 was announced as a power outage, without specifying why they could not switch the maintenance of the ship repair site to backup power sources.
At that time, there were some losses among the employees who serviced the repair at PD-50. It must be recalled that exactly one year ago, officials announced that the sunken floating dock would certainly be lifted - at least with the goal of freeing the entrance to the harbor and ensuring the planned operation of the 82 shipyard.
The maximum depth at which the floating dock with a total displacement of 215 thousand tons is located is about 60 meters.
We have to admit that a year later from the moment of those statements and promises, no data on the work on lifting the sunken floating dock (one of the largest in Russia) was announced (if at least some work is being done at all). It does not say whether there is a project to raise the sunken PD-50, nor what specific enterprises are ready to entrust this labor-intensive process. But earlier the following sounded:
The rise can be carried out with the help of exclusively domestic companies, without involving foreign ones.
The only thing that is known for sure is the "ongoing investigation." So, about 2 months ago, information came about a report on the progress of this investigation. The report was heard by the head of the TFR, Alexander Bastrykin. The investigation is being carried out by employees of the North-West Investigation Department for Transport. It is noted that data on "violation of safety rules when organizing work on the floating dock" appear in the case. No details were reported.
When the PD-50 will be raised and whether it will be raised at all, it is not reported.