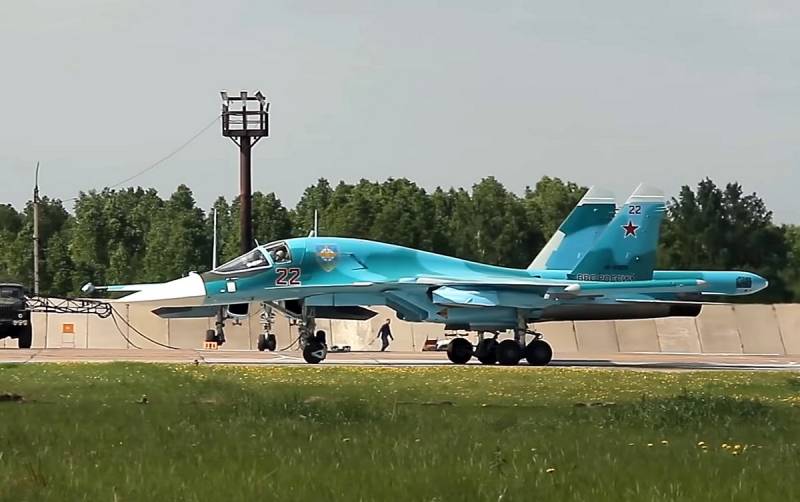 Russia is preparing for possible purchases by foreign countries of the Russian export Su-34 front-line bomber (Su-32). Applications for the purchase of aircraft sent several countries. This was told by the head of Rosoboronexport Alexander Mikheev in the framework of the Dubai Airshow exhibition held in Dubai.
According to Mikheev, applications for the Su-34 bomber have come from several countries and are currently being considered. At the same time, he did not disclose who specifically wants to buy a Russian plane.
Work is underway. Several partners even flew these planes. So we are waiting for decisions, we conduct marketing work

- he explained.
The interest of foreign countries in the Su-34 bomber was officially reported back in the 2015 year, contacts with potential buyers were possible before, but at that time it was banned for export. The aircraft received permission to deliver abroad in April last year, as well as the export version - Su-32.
So far, the Su-34 has not been delivered abroad; aircraft from the 2006 are delivered only in the interests of the Russian Aerospace Forces.
Su-34 is a multi-functional fighter-bomber designed to strike at ground and surface targets in the face of strong opposition from enemy air defense equipment. According to its combat capabilities, the Su-34 belongs to the 4 ++ generation and is capable of performing basic combat missions without escorting fighters. Due to the high speed and maneuverability, the bomber can independently conduct an air battle with enemy fighters. The plane received the unofficial nickname "Duckling" because of the bow, in a shape resembling a duck beak.