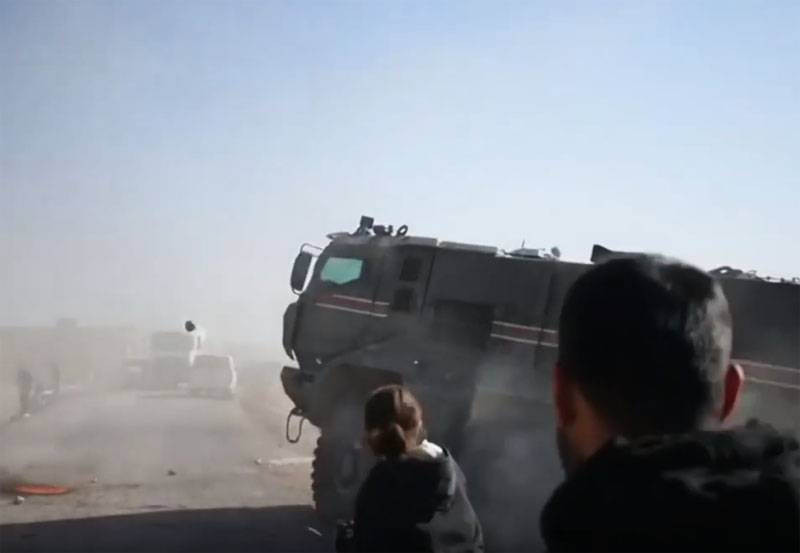 Information pressure is increasing from resources controlled by the so-called Syrian Democratic Forces on patrols of the Russian military police in the north of the SAR.
Recall that in recent years there have been cases of attacks on Russian troops, which are often patrolled jointly with the Turkish military. The Kurdish local population is being pushed by a third force to provocations against the Russian contingent, which, in fact, is deployed to the north of the SAR in order to protect the Kurdish civilian population. Armored vehicles of the military police of the Russian Federation are stoned, beaten with sledgehammers, and on the eve of a video appeared that shows how local young men threw Molotov cocktails on the Russian patrol. This led to an open flame on the body of the Typhoon armored car.
It is noteworthy that women and children who literally throw themselves under the wheels of military equipment with sticks and stones are involved in provocations against the Russian military.
Now the Kurdish media use this factor for informational pressure on the Russian contingent of the military police. Thus, the ANHA information service announced that one of the armored personnel carriers of the "Russian-Turkish military patrol" (which particular contingent machine was in question, was not reported) allegedly ran into a local resident.
From the report:
One of the armored personnel carriers of the combined Russian-Turkish patrol squad ran into a young woman in the village of Tiri, as a result of which she received a leg injury. The victim was taken to Kobani hospital. She noted that the driver of the armored car drove into her and her friend intentionally.
At the same time, the local resident, local reporters, who came running to shoot the plot, for some reason did not ask, but what did she and her friend do in the way of the movement of the military convoy? And they still haven't bothered with the question of what would have happened to the local resident if she had really been "intentionally driven by an armored personnel carrier"?
But in the next shots you can see how young people and girls run right up to the militarized patrol and throw stones at it, not really thinking that at any moment due to the awkward movement of any participant in this "action" they might be under the wheels. Or do they themselves need a sacred sacrifice?
The same shots show how a particularly hot local resident throws a stone at a Russian soldier and with a cry of joy rushes away from an armored car standing on the side of the road. Then in the frame appears the local "crying girl" who showers with the curses of the military.