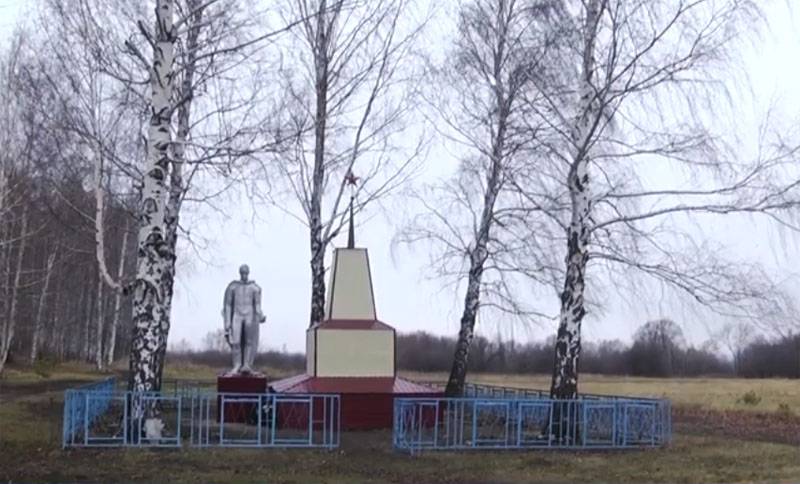 A report was published on the republican television of Mordovia, which tells about the repair of the monument to the soldiers of the Red Army who fell during the Great Patriotic War. We are talking about the monument, which is located in the village of Spassky Murzy, Ardatovsky district. The population of the village is about 140 people.
The fact that the monument was repaired in such a small village is positive, but the whole question is how it was repaired. It turned out that, by the decision of the village head, they decided to sheathe the obelisk with metal siding, which, frankly speaking, looks unsuitable for the monument dedicated to the fallen soldiers.
Evgeny Lokotkov (the head of the rural settlement) decided to use metal siding so as not to whiten the pedestal of the monument and the obelisk "after every rain". According to him, "if he had money," he would "order granite from the Urals." The head reports that he was forced to borrow building materials - "on parole and under the land tax". We are talking about the amount of 40 thousand rubles.
In total, for the two local villages that are part of a single rural settlement, the total budget is 500 thousand rubles per year. And as soon as the mentioned 40 thousand rubles are received in the budget of the settlement, they will be written off against the debt for the repair of the monument.
Evgeny Lokotkov:
I would like to tell people (meaning critics of the applied repair option of the monument): let them work in my place. Most likely, most of the reviews on the Internet are people who live in the city. And maybe these are those who left this village, and now they are looking at photos and telling how it is better to live here. Why did they leave? Would they stay, work, work, raise a farm, I would look from the side, how they will succeed.
In this situation, it is worth contacting the representatives of the business of the Republic of Mordovia: if it is possible to provide all possible assistance to, let's say, normal repair and restoration of military monuments and obelisks in small towns of the region, then it would be worthwhile to help.
Meanwhile, the network did not appreciate Lokotkov's words, noting that at 40 thousand rubles, if you wanted, you could not close the obelisk with siding, but make a completely acceptable option for updating this small monument.
Report 10 channel (Mordovia TV Network):