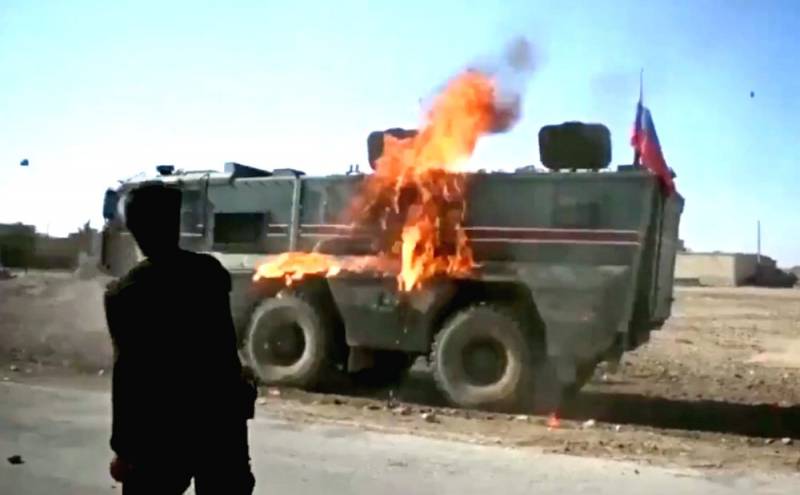 The network continues to publish videos that capture the attacks of the Kurds on the Russian military police in northern Syria. It all started with stones that were thrown not only by Russian, but also Turkish and American armored vehicles. Then they began to publish fragments in which aggressively-minded residents of the northern regions of Syria were already climbing armored vehicles and starting to strike at equipment and the hull with a sledgehammer.
This time the situation was aggravated by the fact that in addition to stones, Molotov cocktails flew for the first time to a Russian military police patrol, moving a convoy around a village. One of the "Molotov cocktails" hit the Russian Typhoon armored car, which ultimately led to the fire of the body of the armored vehicles of the Russian military police contingent.
It is noteworthy that the casting of the Russian patrol involves mainly young people, including girls and even children. This time, among the tasks set for the Russian convoy prepared for the "meeting" was the task of burning Russian armored vehicles - using Molotov cocktails.
In addition, it can be stated that aggressively-minded locals are probably well aware of the time and route of movement of the military police patrolling the northern regions of the ATS. This is indirectly confirmed even by the fact that by the time the column was passing, the locals had time to arm themselves not only with stones, but also with the same Molotov cocktails - even with lighted wicks.
The Russian military proceeded through the settlement, not being able to respond to outright provocation.