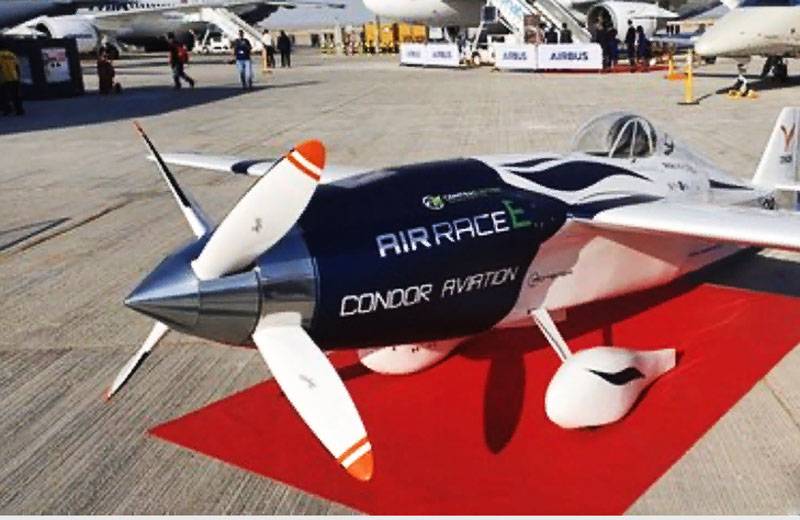 At the air show in Dubai, the presentation of various kinds of aviation innovations continues. One of those that attracted special attention was the first electric "racing" aircraft.
We are talking about an electric aircraft, designed primarily for high-speed aerobatics at low altitudes as part of special competitions in the light-motor class
aviation
. Often, these competitions are called aviation Formula 1.
The electric aircraft E-Racer, presented to the public at the aviation salon in the UAE, was created by specialists from the British company Team Condor. The creators of the electric airplane say that the Cassutt aviation class was chosen as the basis (these are single-seat light-engine aircraft developed in the United States at the beginning of the 50's).
The electric aircraft E-Racer uses a twin power plant Contra Electric, which propels the propeller with the so-called opposite rotation.
An electric motor allows the aircraft to reach speeds of up to 483 km / h (300 mph). The maximum power installed for racing on the E-Racer will be 150 kW. An 100-kilogram lithium battery is installed under the fuselage of the aircraft, which will ensure the 10-minute high-speed flight with reduced engine power.
The model of the electric aircraft received the working name "White Lightning". The total cost of the British project to create such an aircraft was about 13 million pounds (this is approximately 1,07 billion rubles). The project manager is Richard Glassock, a researcher at the University of Nottingham.
It is reported that for the first time "White Lightning" will take part in air races tomorrow - November 19.