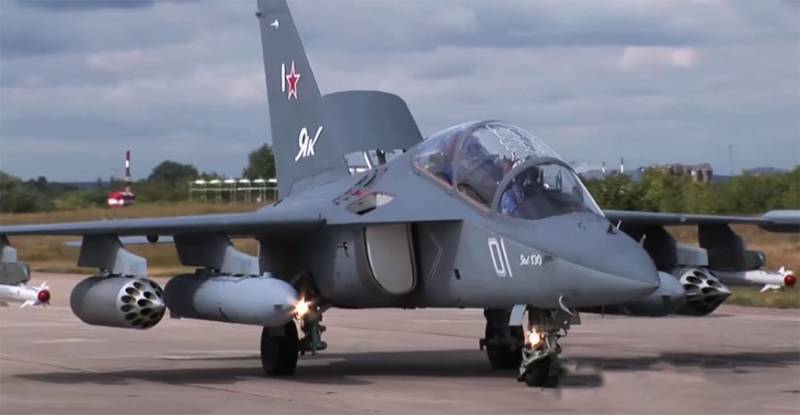 It became known about the plans of the United Aircraft Corporation to create a special version of the Yak-130 aircraft. Recall that at the moment, these aircraft are positioned as combat training, and in the Russian Aerospace Forces, the emphasis is primarily on the training component.
The head of the United Aircraft Corporation, Yuri Slyusar, who was in the UAE at the Dubai Airshow 2019 international exhibition, told reporters that the UAC plans to turn the Yak-130 into a combat aircraft. We are talking about a deep modernization of the initial version of the UBS, which is designed to increase its combat component.
According to Yuri Slyusar, the UAC "customized" the increased combat capabilities of the aircraft to the needs of foreign customers, including aircraft customers, including those from the Middle East.
The combat version of the Yak-130 is presented with an expanded range of weapons, including air-to-air guided missiles, NURS units of various calibers, EW (electronic warfare) containers, and a hanging container with an air gun of 30 mm caliber. It's about double-barreled
aviation
the cannon.
According to Yuri Slyusar, the Yak-130 today allows training personnel to pilot combat aircraft of both the 4 and 5 generations. Deep modernization of the Yak-130 will allow you to turn the aircraft into a truly self-sufficient combat unit.
Recall that earlier in Russia there were several cases of the fall of the Yak-130 aircraft. Some of them are associated with the piloting of UBS by cadets and instructors of the Borisoglebsk air base. According to some reports, the pilots expressed dissatisfaction with the operation of the UBS engines. Based on the claims made, the manufacturer conducted a multi-level refinement of combat training aircraft.
To date, Yak-130 UBS are operated in addition to Russia in countries such as Algeria, Myanmar, Laos, Bangladesh and Belarus. Consider buying in Kazakhstan, Malaysia, Syria, Mongolia and several Arab monarchies.