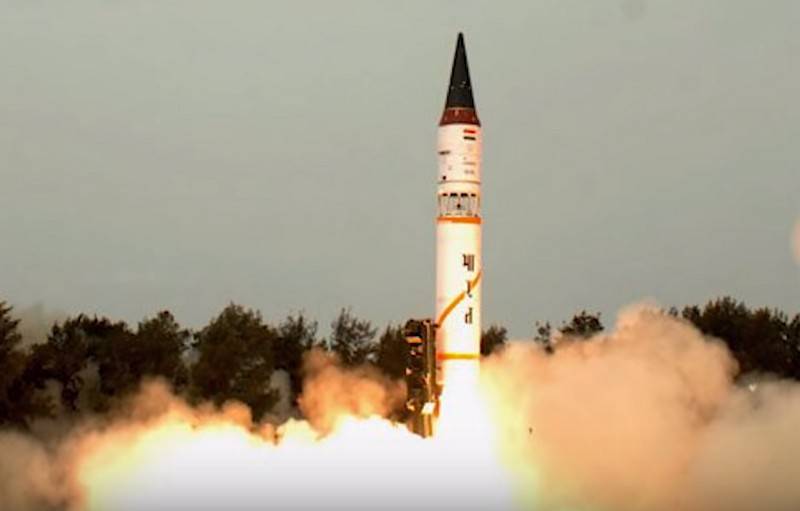 In India, they tested an Agni-II medium-range ballistic missile ("Agni-2"). A successful launch was made on Saturday, according to the country's Strategic Forces Command.
According to published information, a missile capable of carrying a nuclear warhead was launched at a range of two thousand kilometers from a test site on the island of Abdul Kalam off the coast of the eastern state of Orissa for a target located in the Bay of Bengal. The tests were considered successful, the missile "with high accuracy" hit the training target, which is confirmed by the fixation data obtained from two ships tracking the launch in the area of ​​the fall of the warhead in the Bay of Bengal.
The launch was from a mobile launcher in 19: 32 local time. It was the first rocket launch in the evening.
The Strategic Forces Command stated that the tests confirmed the characteristics of the rocket. Agni-II is capable of carrying payloads weighing up to 1 tons. The mass of the rocket itself is about 17 tons. Agni II is equipped with a modern navigation system and a "unique control system" that can control, including fuel consumption.
At present, the Strategic Forces Command of India is armed with ballistic missiles from Agni-1 to Agni-4 with a range of 700-3,5 thousand km. The launch of the Agni-5 ballistic missile with a range of up to 5,5 thousand km is expected. All missiles are capable of carrying a nuclear warhead.