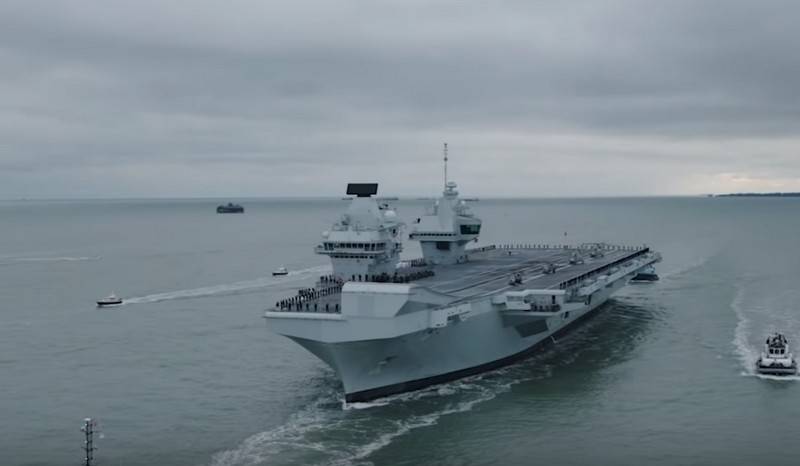 The second British aircraft carrier HMS Prince of Wales completed sea trials and arrived at the port of registry of Portsmouth, where the ceremony of putting the ship into the British Navy will take place. The ship will be in the fleet before the end of the year. This was reported by Press Association.
Our first Portsmouth Harbor entrance was the successful completion of the construction and sea trials phases, during which the shipbuilding company and partner organizations worked very closely to ensure that Prince of Wales was included in the fleet
- said the captain of the ship Darren Houston.
As previously reported, in mid-September, HMS Prince of Wales set sail from the dock of the Abcock Marine shipyard in Rosyth, Scotland, where they were completing afloat, to pass the tests on the northwestern coast of Scotland, during which the plane first landed on the aircraft carrier's deck, and its power plant was tested at maximum speed in 25 nodes.
The British aircraft carrier HMS Prince of Wales is the second ship of this type and the first serial ship after the lead Queen Elizabeth, introduced to the Royal Navy 07 on December 2017. The construction of the aircraft carrier was launched on May 26 of the year 2011 with a steel cutting ceremony. The actual assembly of the ship from the blocks began in May 2014, all in all, the 52 previously assembled blocks were used in the aircraft carrier design. Launched on December 21 2017 of the year.
Length - 280 m, width - 73 m, total displacement exceeds 70 000 t. Speed ​​up to 25 knots (46 km / h), autonomy is 10 000 miles or almost 300 days of sailing. Crew: command personnel 60 people, personnel 600 people and air personnel 900 people.
The wing should consist of F-35B fighters and Merlin helicopters (in total up to 40 vehicles with the possibility of expanding the wing to 70 units). In the basic configuration on the aircraft carrier will be located 12 F-35B. It is assumed that the ship will be able to carry attack and heavy military transport helicopters, as well as V-22 Osprey convertiplanes.
HMS Queen Elizabeth, laid two years earlier than the HMS Prince of Wales, is currently on a visit to the United States, where flight tests of fighters intended for him will be held. The initial combat readiness of both aircraft carriers is expected to be achieved next year.