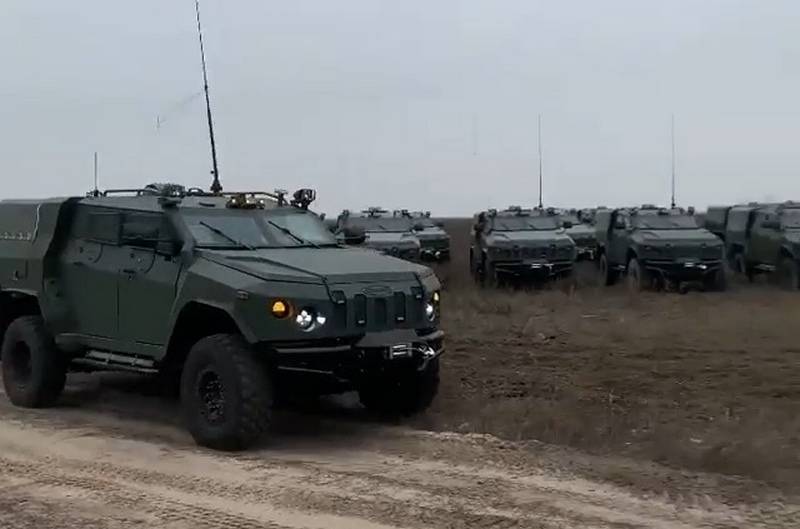 The Armed Forces of Ukraine received the first batch of domestic-made armored vehicles Novator. This was reported by the press service of the company "Ukrainian armored vehicles", which is a manufacturer of armored vehicles.
According to the company, the armored car was created on the Ford 550 chassis with reinforced rear suspension. The design used foreign components, of which at least 50%. The curb weight of the vehicle is 6845 kg. The maximum speed of the car on the highway 140 km / h. The armored car is equipped with an 6,7-liter turbodiesel rated at 300 hp. (895 Nm) and 6-speed automatic transmission. Tires have Ran-Flat bulletproof inserts. The car overcomes steep slopes of up to 60 degrees and slopes of 50 degrees. Fuel tank - on 160 liters. Cruising range - up to 700 km.
The machine is offered in various variants for ballistic protection, in particular from M80 cartridges of caliber 7,62x51 mm (from a distance of 30 meters, speed 835 m / s), from bullets SS109 of caliber 5,56 mm (30 m, 900 m / s) and NATO cartridge MX193 5,56XX mm (45 meters, 30 m / s). There is mine protection against hand grenades, fragments and artillery shells.
Crew - 2 person, also in the back seat can accommodate three more. In the cargo compartment there is a place for seating and a place for fixing a sanitary stretcher is provided. Three sides of the cargo compartment recline. Side panels can be easily removed to facilitate loading / unloading and transportation of goods of various sizes.
For the first time this armored car was introduced in 2017 under the name "Warta Innovator" as created specifically for units of the National Guard of Ukraine.