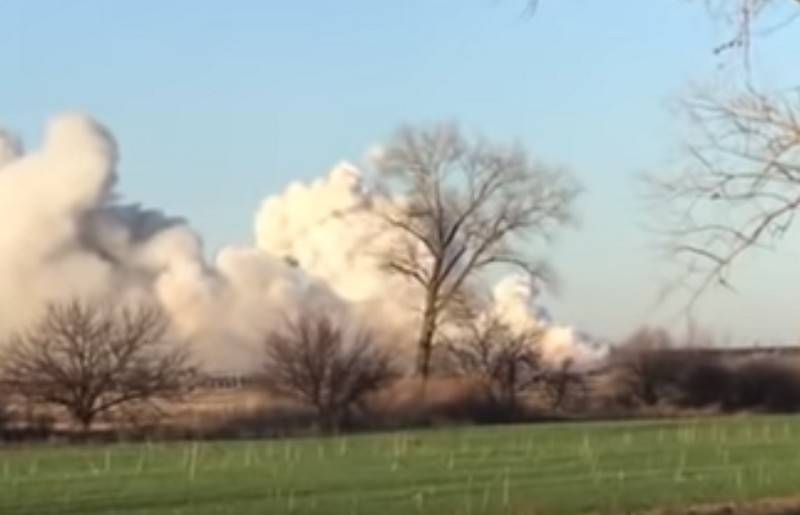 Information about a series of explosions that sounded at military depots near the city of Balakliya, Kharkov region, is again coming from Ukraine. This is reported by local media.
According to available information, grass burns in the territory of military depots, single explosions occur in the arsenal, and 20-30 fragments fly apart. According to the duty officer of the Central Artillery Ammunition Supply Base, four servicemen of the Armed Forces of Ukraine with injuries of varying severity were delivered to medical facilities in the Kharkov region.
The General Staff of the Armed Forces of Ukraine called the situation on the territory of the Central Artillery Ammunition Supply Base controlled and safe.
November 15 2019 of the year in 14: 28, according to a message from the duty of the Central Artillery Ammunition Supply Base, on the technical territory, where, in order to dispose of the remnants of ammunition and their elements that cannot be transported, taking into account all security measures, the planned destruction of the remaining ammunition and their elements in a specially equipped place for this - pit, thundered about 20 explosions
- said in a statement by the General Staff.
Meanwhile, the deaths of two sappers who received injuries incompatible with life are reported. Three other Armed Forces servicemen are in serious condition. The AFU General Staff later confirmed the information.
In turn, the State Emergency Service in the Kharkiv region of Ukraine reported that it had received information about the explosions at the Balakli military arsenal, rescuers went there, but they were not allowed to go there, since this is the territory of the military unit. The regional State Emergency Service specified that their rescuers "just in case" formed columns and went to nearby areas.
Recall that this is not the first incident at military depots near Balakleia. On 23 of March 2017, a fire broke out in the warehouses, leading to the detonation of shells and missiles stored in the warehouses.