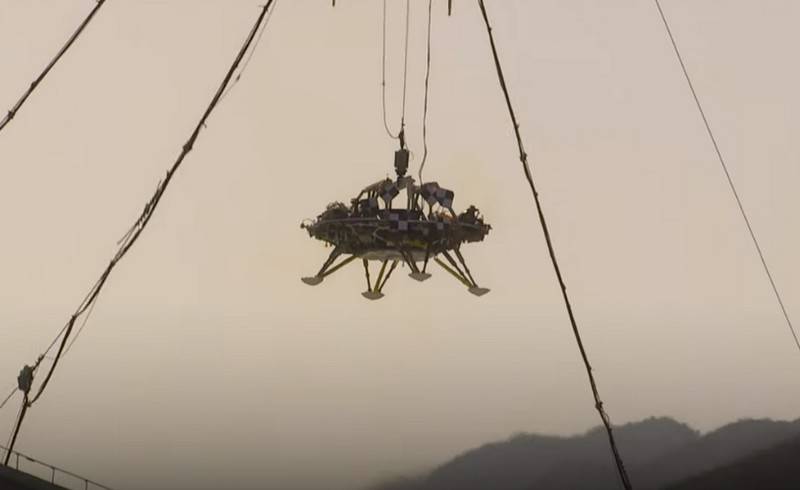 In China, the platform was tested for the Martian mission. As transmits
"NPlus1"
, the aerospace science and technology corporation (CASC) has successfully tested the platform that will be used to land the rover in the 2020 year.
Reportedly, for testing, the corporation's specialists used a complex with an 140-meter test bench capable of simulating the gravity of other planets using a system of multiple tension-controlled cables. During testing, the landing platform was reduced both on cables and on its own engine. With a decrease, experts tested different modes, including hovering above the surface and tracking obstacles on it. The tests were considered successful.
The planned Martian mission will be the second for China: in 2011, the first Chinese Martian probe was launched into space together with the Russian Phobos-Grunt station, but both vehicles were lost due to a failure of the on-board computer. This time in Beijing, they hope that everything will go smoothly.
It is expected that the vehicles will go to Mars on the Changzheng-5 rocket in July or August 2020. According to calculations, the vehicles will enter orbit in February 2021, after which they will land on the planet's surface, which will be carried out by a platform with a rover located on it, while the orbital probe will remain in orbit and will carry out its program for a year. It is planned that the Mars rover will carry out a program to study Mars for 92 days, at least. The main theme is studies of the chemical composition of the soil, as well as its distribution. A radar was installed on the rover, capable of collecting information about the soil at a depth of one hundred meters.
Note that the 2020 year is scheduled not only for the Chinese mission to Mars. In the summer of next year, the American "Mars-2020" and the European "Exomars", the landing platform for which "Roskosmos" created, will also go to Mars