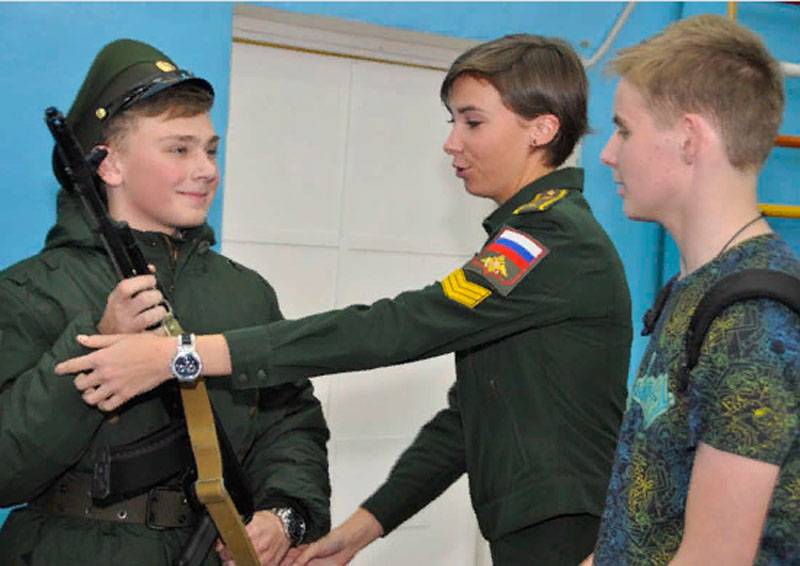 As one of the measures to popularize military service throughout the country, annual events are held related to the Day of the draftee. On this day, many military units, military universities open their doors to schoolchildren and students (both boys and girls) with the goal that modern youth could see with their own eyes army life, get acquainted with rich military traditions, take a look at the modern army
weapon
.
In turn, schools and civilian universities of the country invite military personnel, veterans of World War II, local wars and armed conflicts to meet with students.
During the campaign, exhibitions are unfolding, campaigning centers are working at which people can apply, for example, for membership in the ranks of the "Unarmia", various kinds of military-patriotic clubs.
Of particular interest to modern youth are the stories of servicemen who have passed through "hot spots": Afghanistan, Chechnya, Syria.
To date, the Russian army retains a mixed version of manning. The conscription form is saved in parallel with the recruitment to the service at the conclusion of the contract. At the same time, the percentage of the "contract" component in the army has been growing over the past few years, the number of conscripts is steadily decreasing.
During the spring campaign, the "quota" for conscription was 135 thousand people (a few years ago there were more than 150 thousand). However, the appeal was not carried out in the Republic of Komi and the Yamalo-Nenets Autonomous Okrug. An additional innovation for certain regions of the northern regions of the federation: the call is carried out exclusively in spring and summer (once a year). So, for the 24 municipalities of Yakutia, Khabarovsk Territory, Transbaikalia, Kamchatka and Chukotka, the autumn draft is not held in the 2019 year.
The RF Ministry of Defense informs that in the most organized form of the draft campaign in the spring of this year, such regions as the Belgorod, Omsk, Tula regions, Stavropol Territory, Khabarovsk Territory, as well as the Republic of Buryatia and Tatarstan worked.
According to some reports, the draft digits in 135 of thousands of people are preserved for the autumn draft of 2019 of the year.
Andrey (student of 11 class):
Of course, I'm going to join the army. I see no reason to "run", especially when the service life is not so long - a year. And then, I think, there will be more prospects later.
Igor (returned after being drafted into the army in early November):
He served in the Amur Region. I can say that she seriously affected my character. Well, the wind kinda came out of my head (smiles). I graduated from college, now I'm going to enter the university by profession.