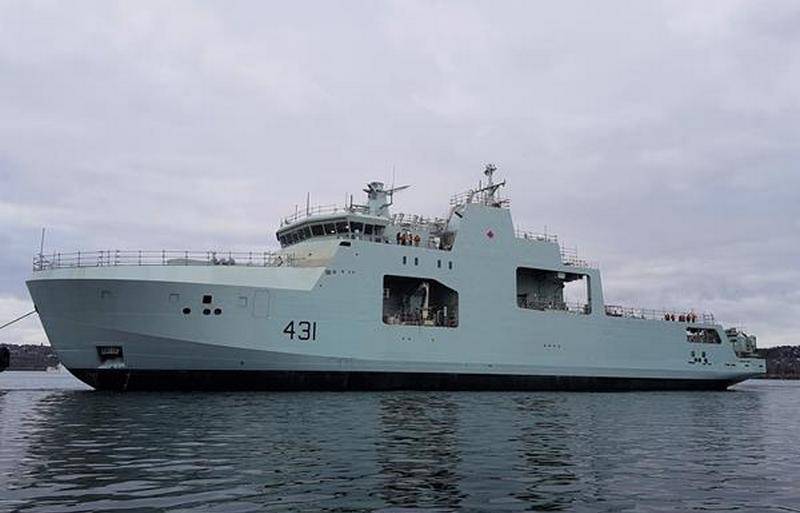 In Canada, the second in a series patrol ship of the Arctic zone such as Harry DeWolf was launched. As the portal transmits
navaltoday.com
, the ceremony was held at the Irving Shipbuilding shipyard in Halifax.
The patrol ship launched is the first serial ship after the lead ship of the Arctic zone HMCS Harry DeWolf, launched last September. The ship was named HMCS Margaret Brooke, after its completion and passing the tests, it should become part of the Royal Navy of Canada in 2020 year. Two more ships of this project are at various stages of slipway construction.
The construction contract for the Canadian Navy of five (according to other sources - six) patrol ships was signed at the beginning of the 2015 year. Coastal ships AOPS (Arctic Offshore Patrol Ship) are designed to expand the capabilities of the Royal Navy to perform tasks in the Canadian Arctic archipelago. Their main tasks are monitoring and conducting intelligence, protecting the sovereignty of the country, as well as monitoring the situation in the exclusive economic zone of the state. According to the manufacturer, the ships are able to perform tasks in any arctic latitudes. They can be used in the Arctic as search and rescue ships.
Arctic zone patrol ships (AOPS) have a displacement of 6440 m, their length is 103 m, and their width is 19 m. Equipped with diesel-electric power plants. Speed ​​to 17 knots. Range at medium speed in 14 knots - 6800 nautical miles. A ship can cross ice one meter thick at a speed of three knots. The autonomy of an individual ship in Arctic waters is four months. Crew - 65 people.
The ship is armed with an automatic gun BAE MK38 caliber 25 mm and two machine guns M2 Browning. Space is provided for the placement of the CH-148 helicopter and two boats. According to the statement of the command of the Canadian Navy, these ships are not intended for military operations, their main task is to perform police and border functions.