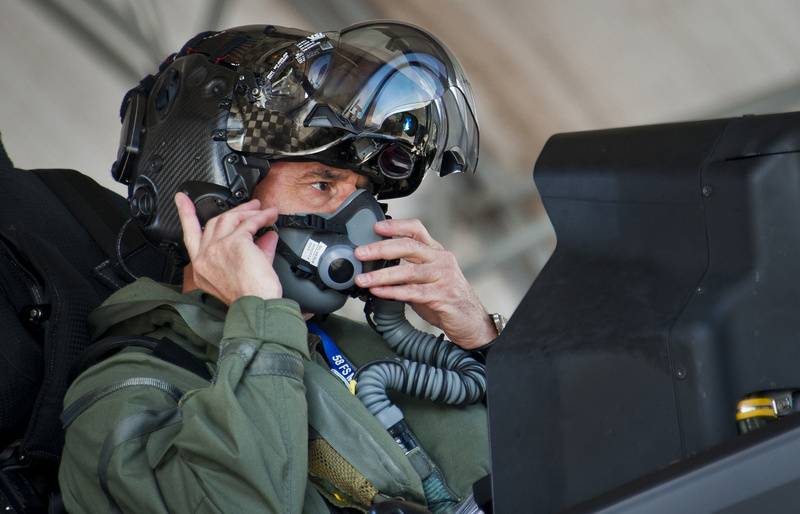 The US Air Force command lifted the restriction on flights in extremely low light conditions, introduced earlier for pilots of the fifth generation F-35 fighter. As transmits
"NPlus1"
With reference to Bloomberg, the American Lockheed Martin managed to remove the green glow of the displays of the helmets of the pilots of the F-35 Lightning II fighter jets.
The American Lockheed Martin, which is the developer and manufacturer of the latest fifth-generation fighter F-35, made changes to the helmet of the pilots of this fighter, replacing the liquid crystal displays with OLED (organic LEDs), thereby lifting the ban on the use of fighters in extremely low light conditions.
The fact is, the newspaper writes that the helmet of the F-35 pilot is equipped with an information display system with a liquid crystal display in front of the pilot's eyes, which displays information from aircraft's instruments, as well as the image from the aircraft's circular cameras. In low light conditions, the system switches to night mode. However, due to miscalculations in the information output system in night mode, the display began to glow uniformly green, thereby drowning out images of devices and cameras completely or to barely guessed outlines.
All this led to the ban on the use of the F-35 at night, especially when landing on aircraft carriers on moonless nights.
The company found a solution in replacing the liquid crystal display with a display based on OLED technology. It is reported that this not only solved the problem of the night mode of operation of the helmet, but also improved the quality of the picture. Other details about the refinement of the helmet are not specified.