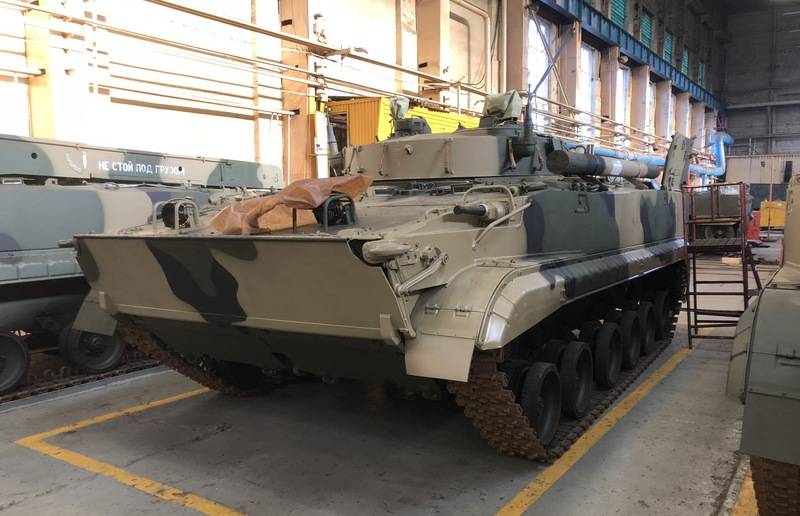 BMP-3 in the shop "Kurganmashzavod". Photo January 2019 of the year
Kurgan Engineering Plant, the sole manufacturer and supplier of infantry fighting vehicles, received a new contract for the supply of 168 BMP-3. Information on the conclusion of the contract is available on the public procurement website.
According to the published documentation, the contract was concluded between the Tula JSC Design Bureau of Instrument Engineering named after Academician A. Shipunov and PJSC Kurgan Machine-Building Plant for the purchase of 168 infantry fighting vehicles BMP-3 to secure the state contract from April 29 on 2019 for subsequent delivery Ministry of Defense of the Russian Federation.
The total value of the contract is 14 billion. 215 million rubles. The implementation of the agreement is divided into two stages: in 2020, the Kurgan should deliver the Ministry of Defense 53 BMP-3, and in 2021, the rest of the 115 infantry fighting vehicles.
According to the bmpd blog, BMP-3, according to the 688B-SB6-2 specification, the Russian Defense Ministry will be delivered in a slightly modified form with enhanced protection, and not with the uninhabited Epoch module developed by the Tula KBP, as previously assumed.
Earlier, the Ministry of Defense signed two contracts with the Kurganmashzavod for the supply of BMP-3 - a three-year supply contract for 200 BMP-3 during the 2015-2017 years, and a two-year supply contract for another 200 BMP-3 in the 2018-2019 years. According to known data, KMZ is due to deliver the last 106 vehicles under the last contract in the 2019 year.
Also, on December 28 of December 2018, KMZ signed a contract for the overhaul of 97 BMP-3 early releases with delivery in 2019-2020.