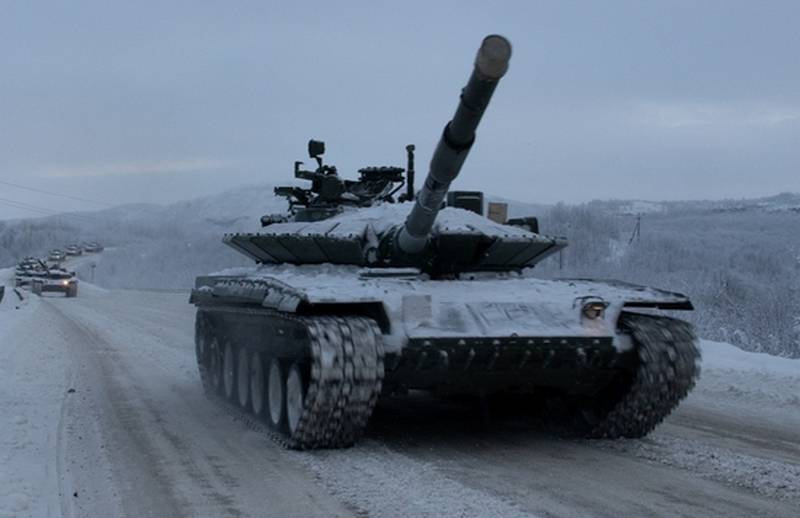 Tanks T-80BVM from the 200th Omsbr SF. Photo November 2019
The last batch of modernized T-80BVM tanks this year, in the amount of 26 vehicles, entered service with the 200th Separate Motorized Rifle Brigade of the North
fleet
, thereby completing the rearmament of the tank battalion of the compound. This was reported by the press service of the Northern Fleet.
According to the report, the received batch of 26 T-80BVM tanks was modernized at the Omsktransmash plant, which is part of Uralvagonzavod. This is the second batch of tanks upgraded to the T-80BVM level, which entered this brigade, the first came in the 2018 year. Tankers of a tank battalion that has undergone rearmament have previously undergone retraining, and will enter the new period of combat training with their own equipment.
On November 1 of this year, the Omsktransmash press service announced the shipment of a batch of modernized MBT T-80БВМ. Earlier, the Ministry of Defense reported that it had concluded a contract with UVZ in 2017 for the modernization of the 62 T-80BV tanks to the T-80BVM level with delivery to the 31 tank in 2018 and 2019.
The T-80B tank and its modifications were produced at Omsktransmash JSC from 1979 to 1991 a year. The latest modification was the T-80BV tank, adopted by the Soviet army in the 1985 year. MBT T-80BVM - a new version of the modernization of the tank, developed in Omsk.
The tank is equipped with a modified gas turbine engine with 1250 horsepower, which allows you to increase the driving performance and mobility of the machine on all terrain and develop speeds up to 70 km / h. The unique properties of the gas turbine engine give the T-80BVM an advantage when operating in low temperatures in the Far North and the Arctic.
The machine, which underwent a deep modernization, is equipped with an 125-mm gun, which has the ability to fire guided missiles, a multi-channel sight, an weapon stabilizer and a driver's observation device. The tank is protected from fire by a complex of modular dynamic protection and an anti-cumulative lattice screen.
In Soviet times, more than 10 of thousands of T-80 tanks of various modifications were produced. Currently, 3 thousand "eighty", which are considered a strategic reserve in case of war, is located in military warehouses. The decision to de-arm part of the tanks and modernize it was taken by the Ministry of Defense in 2016.