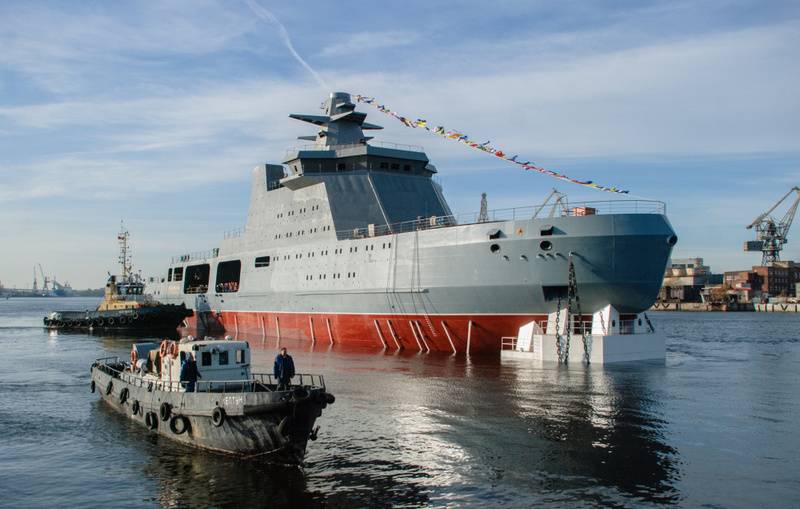 The Russian Navy intends to use combat icebreakers in the Arctic in the future, the number of
weapons
on board will depend on the areas of use. This was stated by Advisor to the General Director of the Krylovsk State Scientific Center Valery Polyakov.
These will be icebreakers and icebreaking ships, that is, ships capable of moving at a sufficient speed in a continuous ice cover of a certain thickness. In fact, it will be armed icebreakers
- he said.
The Russian fleet intends to use armed icebreakers and icebreaking ships in the Arctic. The number of weapons on board such icebreakers will depend on the thickness of the ice in the areas where they will be used. The ratio of the number of weapons to the ability to pass ice jams of each particular type of icebreaker will depend on the specific areas of its use. Those. where the ice is thinner - there icebreakers will get more weapons, where it is supposed to work in "heavy" ice - there, accordingly, there will be less weapons.
Plans for the construction of combat icebreakers for the Russian Navy are available.
Earlier it was reported that the lead ice class patrol ship of the 23550 project "Ivan Papanin" was launched in St. Petersburg. The second ship of the series will be laid before the end of this year or early next.
Project 23550 ice-class patrol ships (combat icebreakers) were developed by the Almaz Central Marine Design Bureau (TsMKB) as a replacement for project 21180 military icebreakers, on which it was built and transferred
the fleet
just one icebreaker - Ilya Muromets.
The vessel is capable of performing the tasks of a tugboat, patrol ship and an icebreaker. The ship is intended for the protection and monitoring of water resources in difficult ice conditions, escorting and towing detained vessels to the port, escorting and supporting support vessels, participating in rescue operations, transporting special cargoes.
The icebreaker is capable of speeds up to 18 knots. Displacement - about 8500 tons, length - over 100 m, width - about 20 m, sailing autonomy - about 70 days. Cruising range - 10 thousand nautical miles. An icebreaker can cross ice fields up to 1,7 meters thick.
The ship is armed with automatic AK-176MA artillery. In addition, one multi-purpose helicopter will be based on the ship.