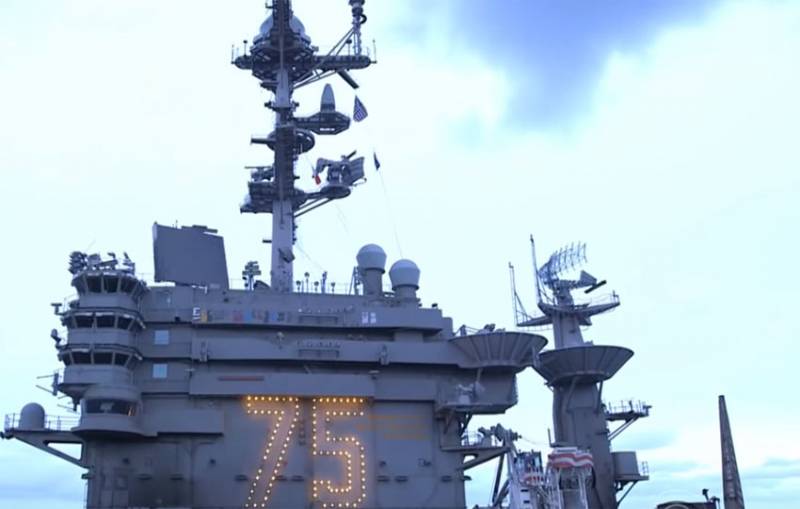 The US Navy announces the imminent return of the USS Harry S. Truman (CVN 75) aircraft carrier to the sea to fulfill the tasks assigned by the command. This is the 1998 aircraft carrier of the year of construction, for which about 4,5 billion dollars were spent from the US military budget.
One of the last operations of the aircraft carrier "Harry Truman" was to inflict attacks on Syrian territory by its air wing in April 2018.
After that, serious problems with electrical equipment were revealed on board the aircraft carrier. After a thorough study of the electrical equipment of the aircraft carrier of the U.S. Navy, it was concluded that a large repair would be required with multimillion-dollar costs. The US Navy began to consider the option of decommissioning USS Harry S. Truman, but in the spring of 2019, US President Donald Trump said that "we will not write off the aircraft carrier."
From the release of the United States Navy:
The Navy replaced the damaged components and completed the tests to avoid further problems. Engineering analysis, combined with tests on several aircraft carriers, shows that this was a local problem, not the problem of the entire class of warships. The success of this repair was due to the outstanding efforts of numerous naval organizations and industry partners, who quickly applied their experience and skills to solve this problem.
According to US Vice Admiral Thomas Moore, everything possible is being done so that the air wing and the aircraft carrier itself are ready for combat deployment in the near future.
The main phase of the repair work took about three months.
Earlier it was reported that the escort ships of the Harry Truman aircraft carrier, while it was undergoing repairs, performed a joint operation with another US Navy aircraft carrier, Abraham Lincoln. The operation took place in the Persian Gulf and was part of the "containment of Iran" campaign.