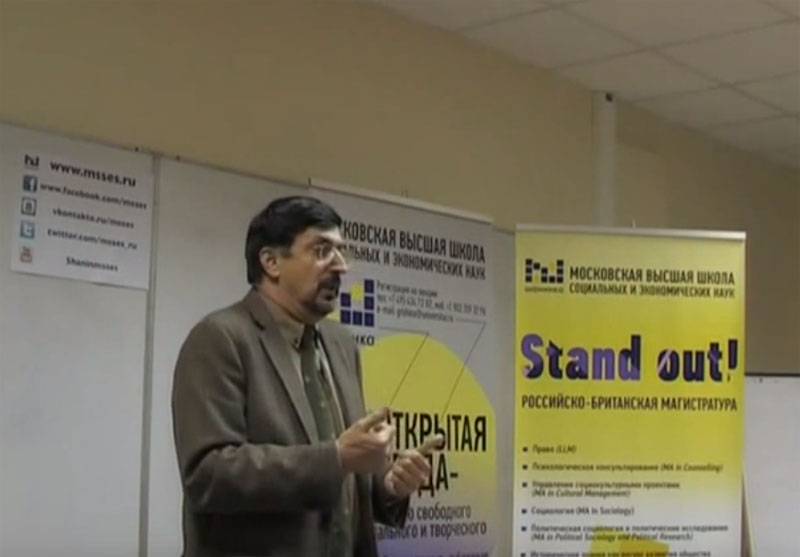 The network was outraged by the general public by an attempt by some representatives of the Higher School of Economics to urge the university ethics commission to apologize to the notorious professor G. Huseynov. We are talking about the very man who complained on Facebook that "in this country" (as Huseynov calls Russia) they speak "foul Russian" and that in Moscow one cannot find publications in foreign languages ​​- only that "foul" one.
Recall that initially the ethics committee called Huseynov's statements inappropriate and urged him to apologize. Mr. Huseynov refused this call.
Further, a real ultra-liberal bacchanalia unfolded, when professors declared almost a victim of "political persecution" and the very commission was called upon to ask Mr. Huseynov for forgiveness.
From a letter from the "initiative group" (publishes, of course,
"Echo of Moscow"
):
The commission found that Professor Huseynov violated paragraph 3.1, section "c", of the HSE's Internal Labor Rules, requiring employees to refrain from "discriminatory statements." It is completely unclear from the protocol who and on what grounds was discriminated against or urged to discriminate against G.Ch. Huseynov. As a result, the Commission recommended that Professor Huseynov "make a public apology" - however, without specifying to whom. We agree with those colleagues who have already published their opinions on this subject and who believe that the minutes of the meeting (in fact, the resolution) of the Academic Ethics Commission do much more harm to the reputation of the HSE than G.Ch. Huseynova - if you even think that they somehow damaged the reputation of our university.
As you can see, the authors of this letter are trying to state that Huseynov did not inflict any reputation damage on the university with his statements about "this country" and "foul" Russian language, and the damage was allegedly done by those who at least somehow tried to tear down the obviously overstuffed professor.
Recall that Huseynov himself, commenting on his scandalous post, said that he considered the Russian language to be excellent, but "only the language was not lucky, because it is spoken by idiots." Should this statement be regarded as self-criticism by the professor? ..