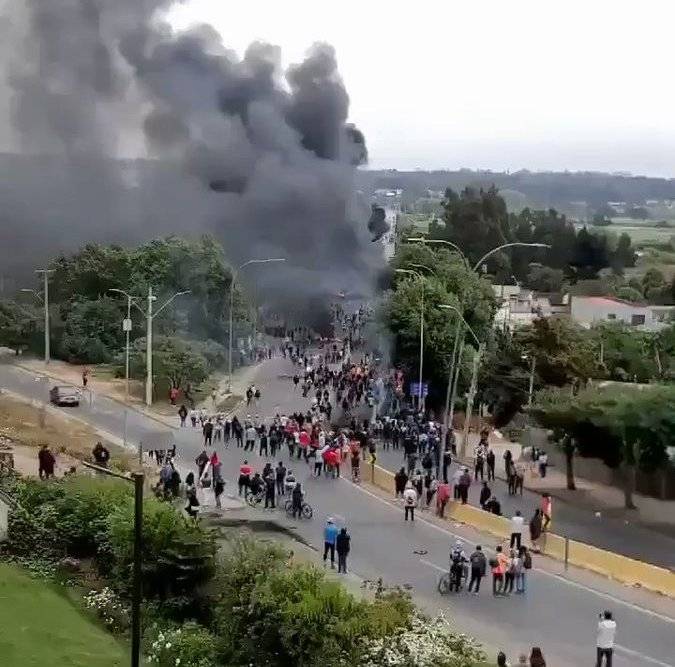 In Chile, demonstrators broke into a military facility in the city of San Antonio, Valparaiso region. It is known that during the dictatorship of Augusto Pinochet, the complex of structures served as a place where training was given to the methods of torture, and now it is known as the Army School of Engineers.
Protesters broke through the perimeter and burst into the base, set fire to a truck there. One soldier was injured. The army has already published a response, warning that further attacks will be duly rebuffed.
At the same time, the military noted that if repeated provocations do not follow, they reject any acts of violence that do not contribute to a peaceful resolution of the civil conflict.
Atacaron acceso al Regimiento de Tejas Verdes en San Antonio. Tiraron panderetas y quemaron un camión de un particular que presta servicios. No resultaron afectadas instalaciones militares @Cooperative #CooperativaTeSuma #CooperativaRegiones pic.twitter.com/FeOwTwklMC

- JL Pérez (@JLPerezOnline) November 12st
The riots in Chile have been going on for several weeks, they have led to human casualties and great material damage. The reason for the unrest was the difficult socio-economic situation of wide sections of the population, and the reason was the authorities' intention to increase the fare for the metro.
In recent months, mass protests have swept across a number of countries in South America. In addition to Chile, they were held in Ecuador and Uruguay. In Bolivia, riots led to the resignation of President Evo Morales, who fled to Mexico, but made a promise to return "with victory".