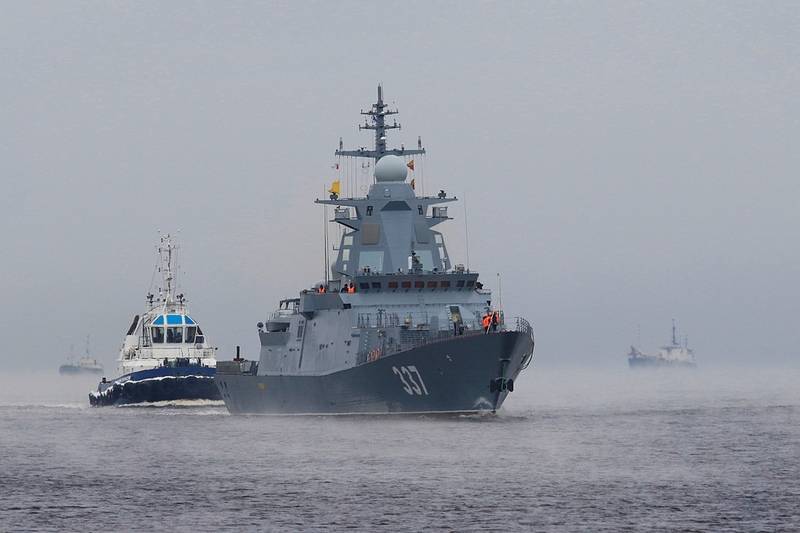 The latest Russian Corvette Project 20385 corvette arrived in the Northern Fleet to undergo state tests. The ship made the inter-naval transition and arrived at the White Sea naval base of the North
fleet
. This was reported by the press service of the Federation Council.
According to the press service, the corvette built at the Severnaya Verf Shipyard in St. Petersburg has undergone a cycle of factory sea trials and preparations for the state trials in the Baltic Sea. In order to pass state tests, the ship 5 left Baltiysk on November and made an inter-naval transition in difficult weather conditions to the Northern Fleet.
Today, the head corvette of the 20385 project arrived in the White Sea naval base of the Northern Fleet for state tests
- said in a statement.
After passing the state tests, "Thundering" will return to the "Severnaya Verf", where the ship and all its systems will be revised. After the ceremony of raising the St. Andrew's flag, the corvette will go to the Pacific Fleet.
The 20385 Project "Thundering" is the lead ship of the series. Laid down in February 2012, launched in June 2017. Construction was delayed due to the non-delivery of German MTU power plants. The corvette was completed with Russian diesel engines 1DDA-12000 of the Kolomensky plant. The unit consists of two 16D49 engines with 6000 horsepower.
The second ship of the Nimble project was laid down in June 2013. Previously planned to build 8 ships for the 2020 year. However, the requirements of the Ministry of Defense to improve the project, the widespread use of imported components (including MTU engines), which fell under the sanctions in 2014, led to the decision to limit the series to two units.
Corvette project 20385 "Thundering" is a further development of the project 20380. Designed for the detection and destruction of surface enemy ships or submarines, organizing the landing of troops, coastal protection, escorting other ships.
Key Features:
• Displacement - 2200 tons.
• Length - 104 m
• Width - 13 m
• Speed ​​- up to 27 nodes
• Navigation range - 3500 miles
• Autonomy - 15 days
• Crew - 99 people.
The armament includes the universal naval rifle complex (UKSK) for the Caliber, Onyx and possibly Zircon, Redut air defense systems, the 100-mm A-190-01 artillery system, two AK-30-mm anti-aircraft artillery systems 630M, as well as anti-submarine complex "Package".